The perfect things for cloudy, rainy days are hearty soups and stews. The recipes on this list are homemade and will hit that spot.
11 Soups and Stews That Will Warm You Up
When do you like to cook soups and stews? Is it on cold days? What about days when you are feeling sick or just under the weather?
A homemade soup hits that spot. It is pure comfort food that is wonderful as lunch or as part of a dinner.
Try something beyond chicken and noodle soup. These soups are everything but boring. You'll love them.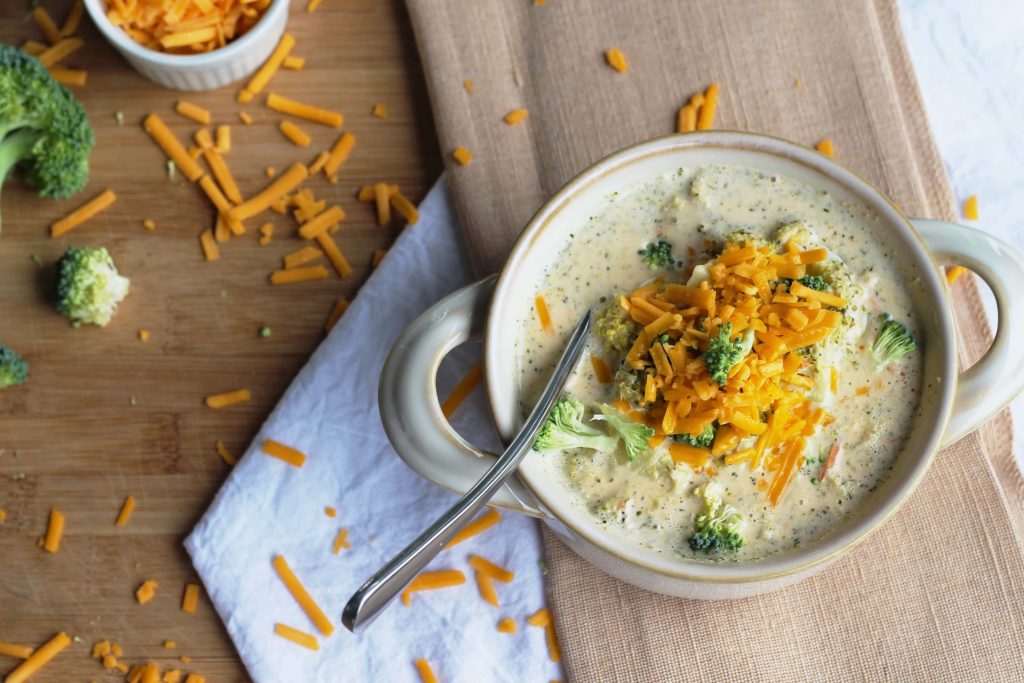 Cheese and veggies, what could be better? It's made in the slow cooker, that's what's better. You can make this recipe as you are heading out the door and come home to hot soup. It's wonderful!
Find the recipe on 5 Dinners 1 Hour.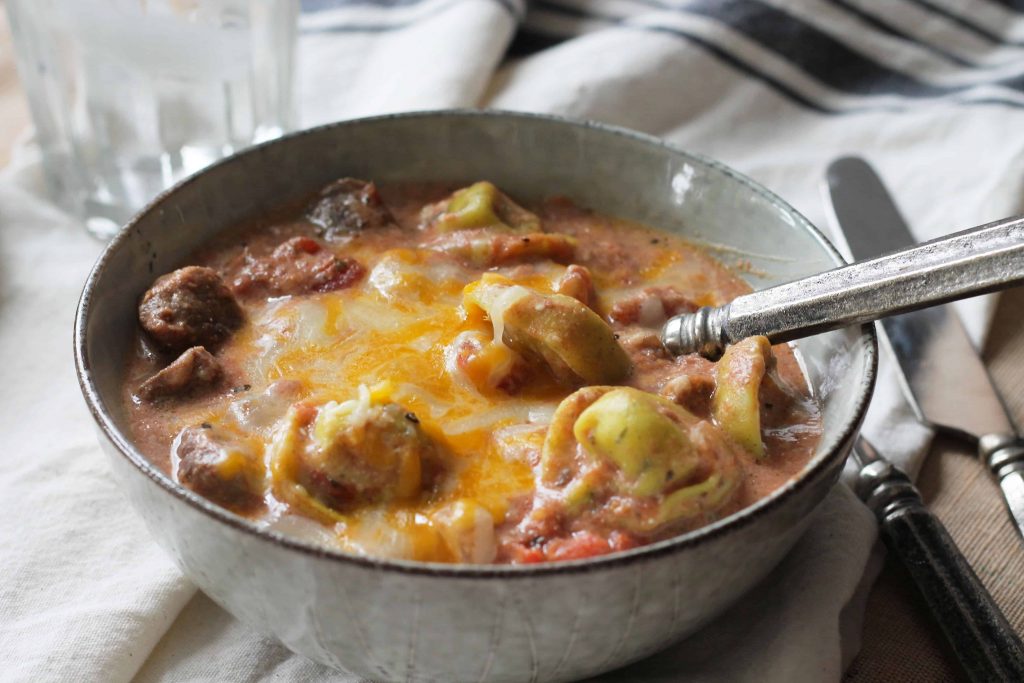 Tortellini is one of those comforting kinds of pasta that everyone loves. Pair it with this zesty sauce and you have an unforgettable meal.
Find the recipe on 5 Dinners 1 Hour.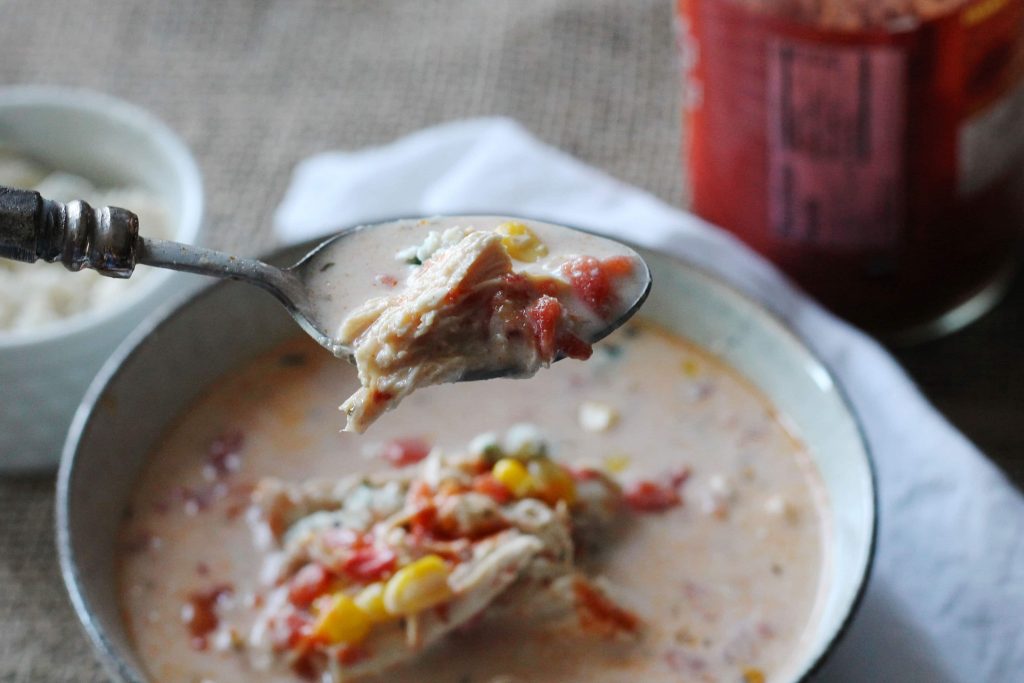 Who loves their food extra spicy? Then this one is for you! It tastes like your favorite spicy chicken wings. It's perfect all year long.
Find the recipe on 5 Dinners 1 Hour.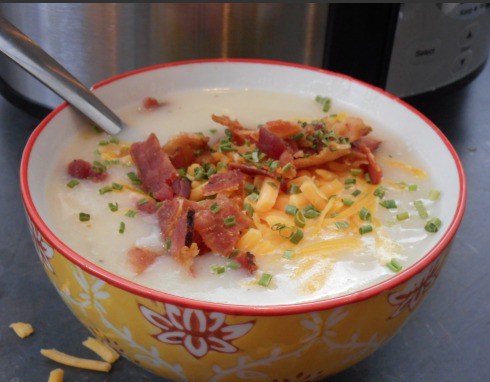 Imagine a loaded baked potato: cheese, bacon, sour cream, and chives. It's all here in this soup. Set it in the slow cooker and it will be ready when you're hungry for dinner.
Find the recipe on 5 Dinners 1 Hour.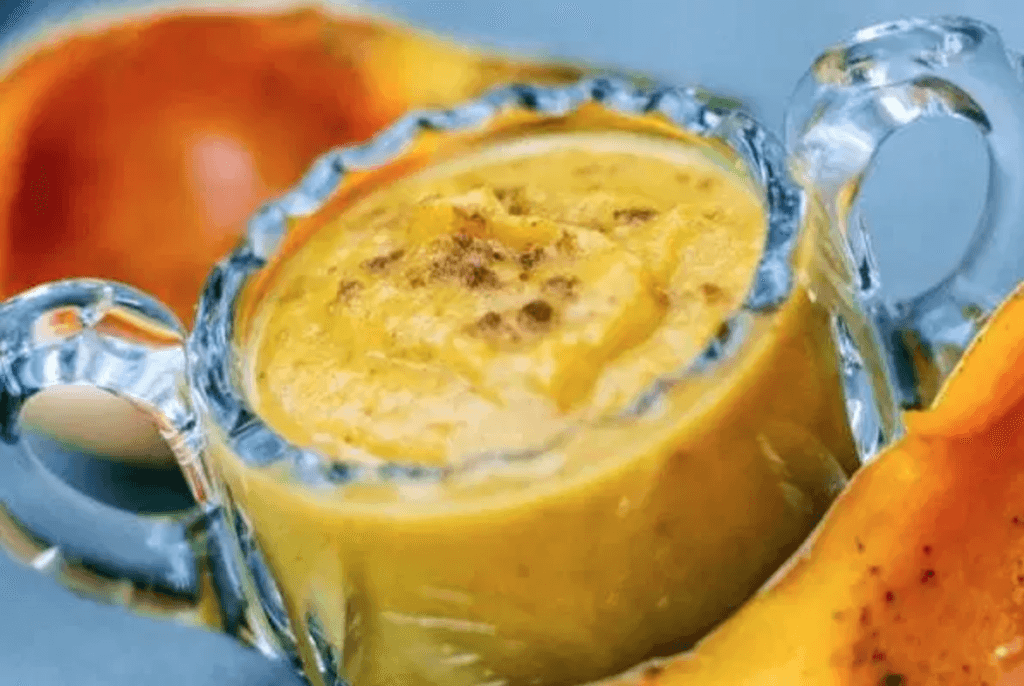 You have never tasted a soup like this one before. And you can't even tell you are eating your veggies! The curry isn't spicy, and it warms you up. Make this one when it's rainy or cloudy out.
Find the recipe on Venture1105.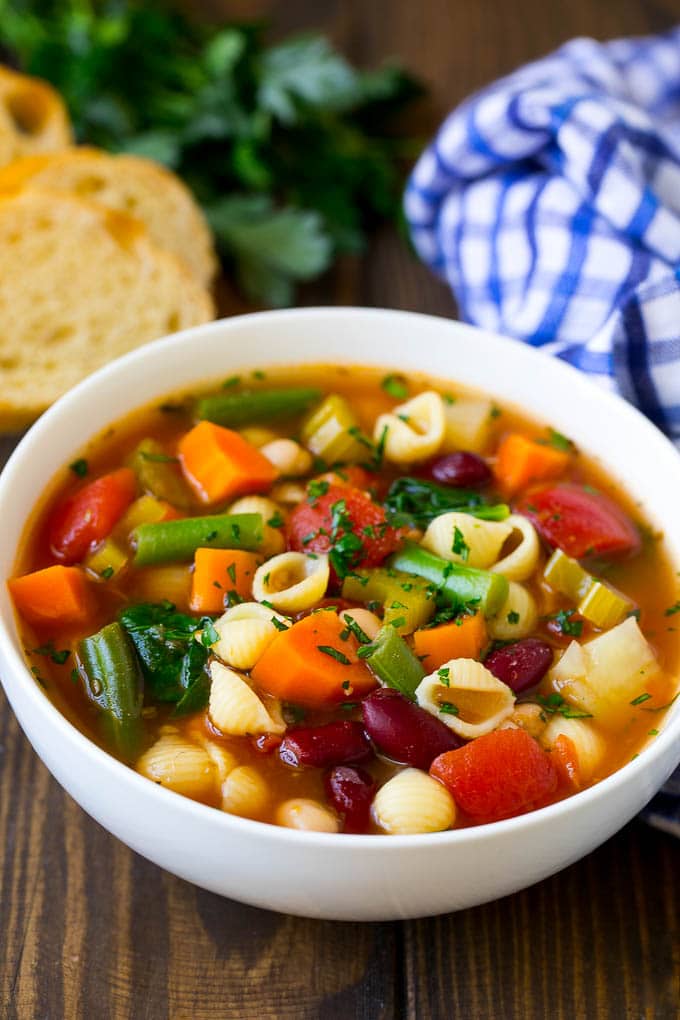 If you want a l0w-carb soup, just make this one without the pasta. It's filled with veggies in a hearty broth.
Find the recipe on Dinner at the Zoo.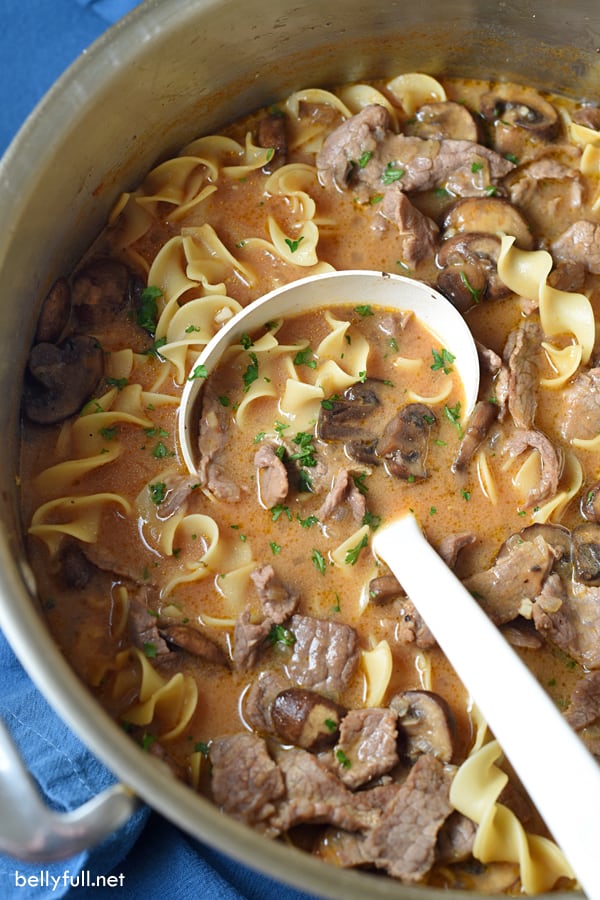 Take everything you adore about beef stroganoff and put it in a hot soup. You'll be drinking the broth after the beef and noodles are gone.
Find the recipe on Bellyfull.
Serve this soup with a grilled cheese sandwich for a classic lunch idea. Don't forget the croutons, they are ideal on top of this traditional soup.
Find the recipe on Slow Roasted Italian.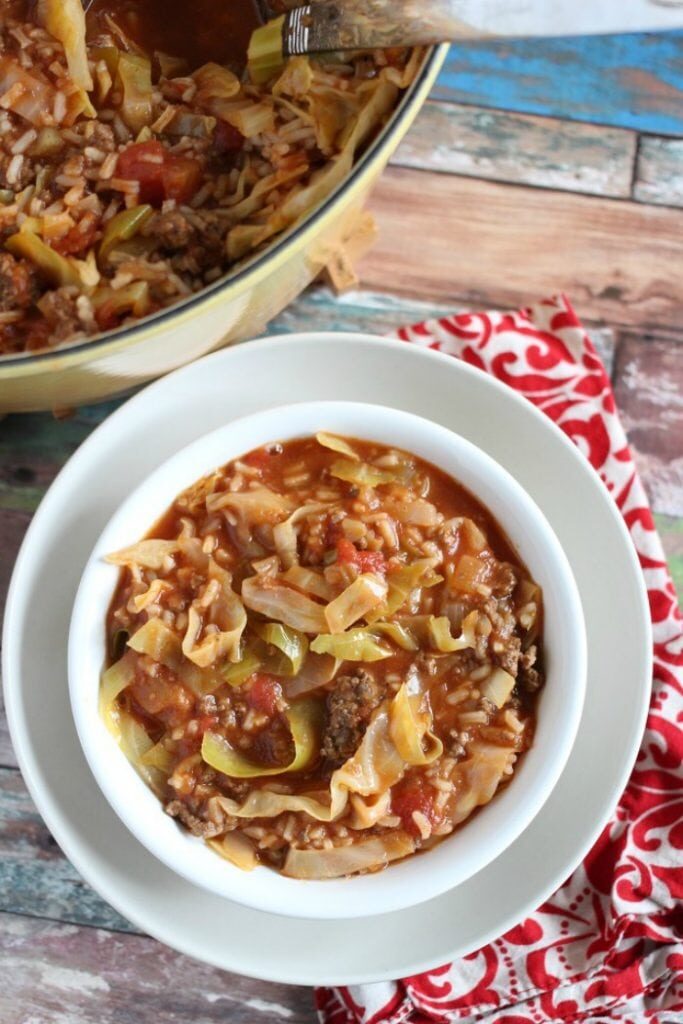 Make this soup when you are watching your budget, it's a low-cost meal that will feed the entire family – and then some! Even better, there aren't very many ingredients in it either.
Find the recipe on Mama Loves Food.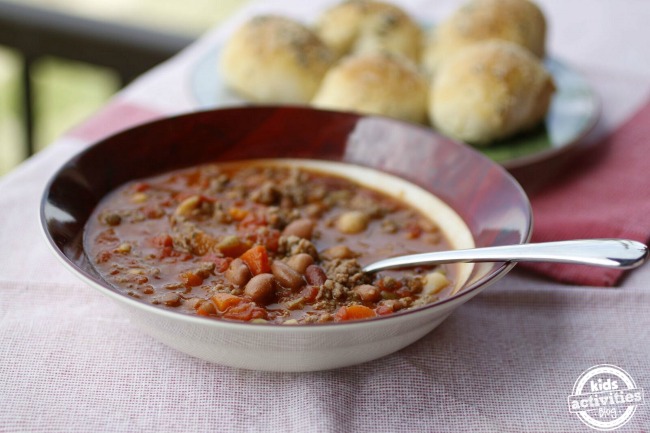 Just like the name suggests, you add ground beef to 8 cans of different ingredients. Kids can help you cook this soup for lunch.
Find the recipe on Kids Activities Blog.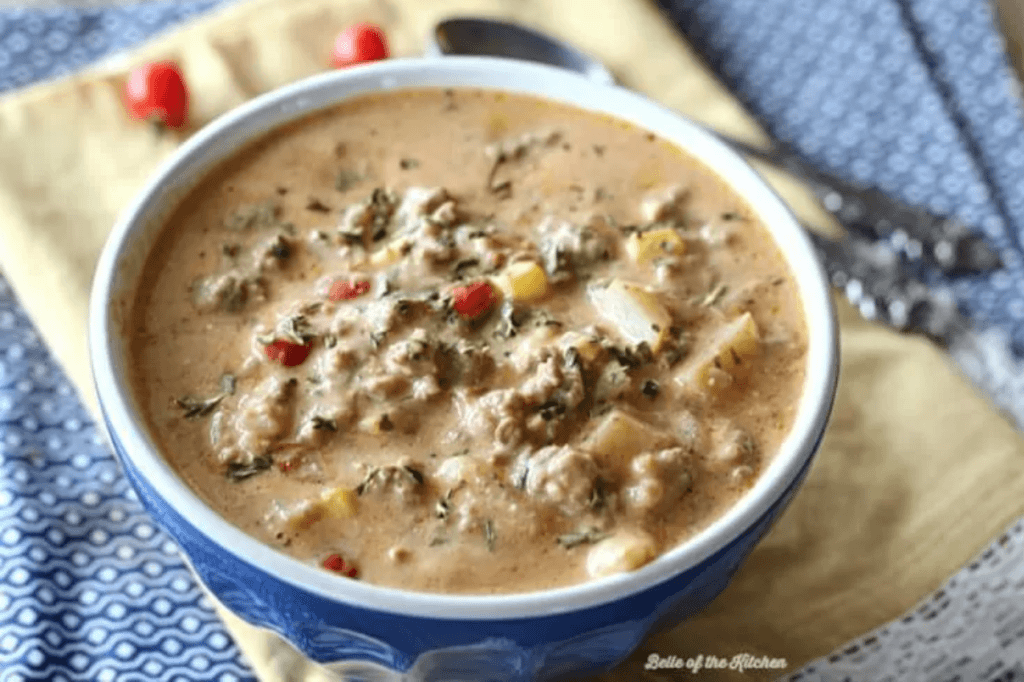 This homemade soup tastes a hundred times better than any soup you can order a restaurant. The potatoes will fill you up and the cheese just takes it to a whole new level.
Find the recipe on Ideas for the Home by Kenarry.
Put Soups and Stews On Your Weekly Menu
Probably the best thing about soups is that they are a one-pot wonder. You can make an entire meal in either the slow cooker or a dutch oven. Most of these soups don't have very many ingredients. And the entire family will love these soups. They are made with ingredients they'll enjoy.
To save even more time, make these soups ahead of time and store them in the freezer.
Pin for later