Clean Eating Custom Meal Plan
Includes Made for You menus PLUS Custom Menu Creator using our Clean Eating Recipes
all recipes serve 4-6 people
(auto renews until canceled)
(auto renews until canceled)
Clean Eating 5-Day Meal Plan
It's great that you've decided to get your family meals under control. Our dinner subscriptions offer a few choices, so to help you choose the best fit for your family.
Clean eating is quite simple. It's a way of looking at food and its preparation in a different light. The key to clean eating is eating food the way nature intended. This involves choosing whole foods or real foods, removing unnecessary fats, sugars, and carbs from your diet, and avoiding processed foods. This means looking after your body and providing it with nutritional value at every meal.
What's included in the

Clean Eating Subscription

:
Ditch the drive through and delivery rut and start cooking today!
Example of a week of our Clean Eating Menu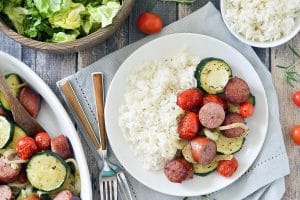 Broiled Sausage, Zucchini and Onions - CE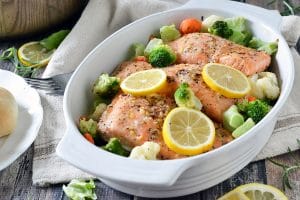 One Dish Salmon - CE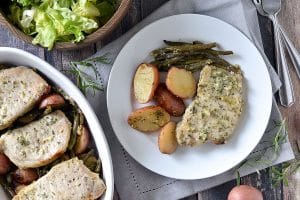 Ranch Pork Chop Dinner - CE
Slow Cooked Chicken Fajitas - CE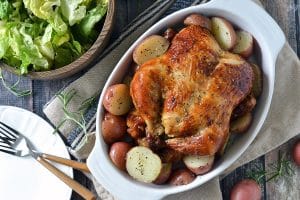 Slow Cooker Whole Roasted Chicken - CE
What are Processed Foods?
Processed food is basically any food that has had something added to it, like salt, sugar, and fats to help it taste better. Many companies add preservatives to keep foods from spoiling—think canned vegetables—and they also add vitamins to enrich certain foods with nutrients.
Not all processed foods are bad, but it is important to avoid foods that are extremely processed. Our clean eating meal plans include all sorts of ingredients that will help you to follow a healthy and balanced diet.
What are the Benefits of Clean Eating?
There are many benefits to a clean eating 5-day meal plan including:
Feeling more energetic
Increased mental health well-being
What Foods are Clean?
If you're not used to reading labels, don't worry—it gets easier with practice. Some things to look out for are:
Fruits: choose fresh fruit, canned fruit with no added sugar, dried fruit with no added sugar, and 100% fruit juice.
Vegetables: choose any fresh vegetable, frozen vegetables with no sauce or added salt, and canned veggies with no sauce or added salt.
Whole grains: choose whole-wheat pasta, single-ingredient grains like oats, quinoa, brown rice, and popcorn (yes!), but make sure you buy the kernels to pop on your stove and not the microwave bags.
Protein: choose dried beans, unflavored nuts like almonds, cashews, and walnuts, and plain nut butters with no added sugars.
My
clean eating meal plans
are easy to follow, full of flavor and never leave you feeling like you are missing out on your favorite foods. We take your favorites and clean them up so you can still enjoy without the guilt. Let's work together to get your family meals back on track. Order your clean eating meal plan today!