This recipe has a rich heritage and is super easy to make. Serve some slow cooked Irish beef stew to your family and enjoy dinner together.
Sometimes, you just want that classic meal. The one that tastes like homemade food should taste. And you don't want to have to spend a lot of time over the stove preparing it (because busy weeks happen).
Thankfully, this stew recipe is pure perfection.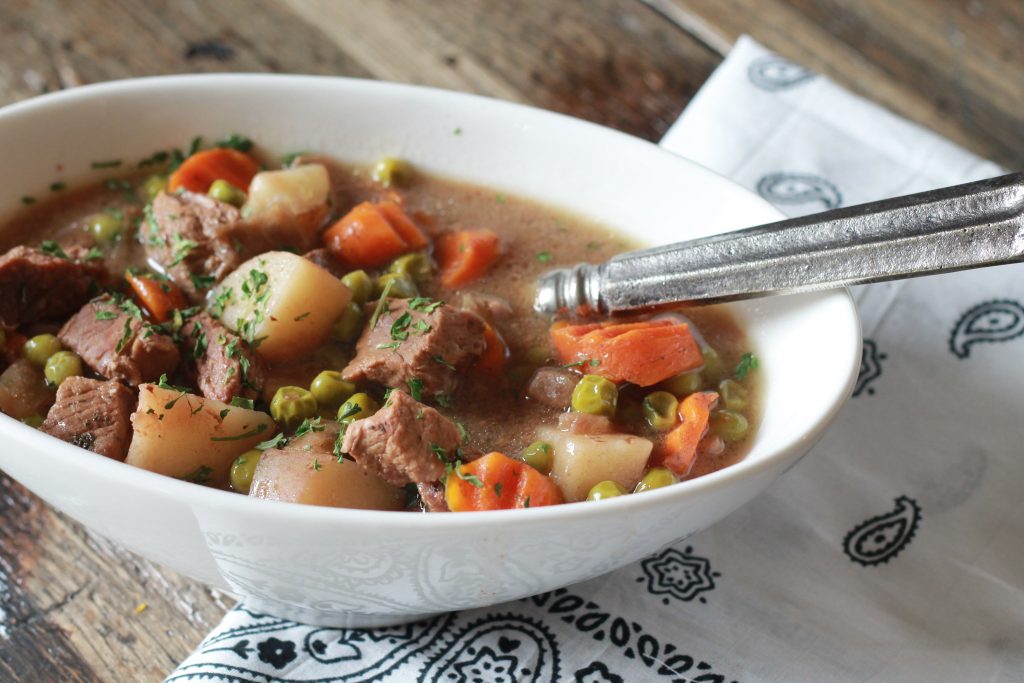 Slow Cooked Irish Beef Stew
This is such an easy dinner and it really fills everyone up. It has all whole ingredients – chunks of hearty potatoes with carrot slices and sweet peas.
All you do is put the ingredients in the slow cooker, turn it on, and let it cook all day. It will be ready by dinner time!
What's in Irish Beef Stew?
There are just a few simple ingredients in this easy stew. All you can customize it any way you want.
New Potatoes
Stew Meat
Chopped Carrots
Garlic
Thyme
Rosemary
Bay Leaf
Butter
Flour
Beef Broth
Frozen Peas
What kind of potatoes are best in Irish stew?
We used new potatoes and think that they are the best choice for Irish beef stew. New potatoes are less starchy and have an almost sweet flavor to them.
Honestly, you can use any type of potato that you want in this stew. That's the beautiful think about Irish stews. They typically used up whatever leftovers they had on hand and stewed them together in a pot of broth.
Try it with white potatoes or even sweet potatoes.
What makes it Irish?
Historically, Irish stew was originally made with mutton or lamb with potatoes, onions, and parsley. Irish stew was made with these ingredients because they used the most readily-available ingredients. In Ireland, most people raised sheep and farmed hardy root vegetables, so that is what went in the stew.
When the Irish moved to America, they brought their traditions and their recipes with them. As time went along, many Irish-Americans adapted this recipe to include beef stew meat and a few other vegetables.
Save Time On Meal Planning
You'll definitely want to add this stew to your family's menu. Everyone will love it!
If you want to save a ton of time, let 5 Dinners 1 Hour create your weekly menu for you. We will send you a list of dinner recipes and an organized shopping list. Then all you have to do is buy the ingredients and make the food.
We always try to find the quickest way to make these meals too. We are called 5 dinners 1 hour because in just an hour, you can literally have all the prep work completed for 5 complete meals.
Start saving time and let us help.
How to Make Irish Beef Stew
Follow along with the steps in this printable recipe card. You won't have to do any fancy prep work. Just chop up the ingredients and put everything in the slow cooker.
You can serve this with a chopped lettuce salad and some warm dinner rolls for a completely filling meal.
*best when cooked by day 3 or potatoes may start to brown.
©
5dinners1hour llc
2020
· viewed on www.5dinners1hour.com on
01/22/20
More Slow Cooker Meals
This slow cooked Irish beef stew isn't the only meal that's a cinch to make. Here are some more recipes you should try next.