**This post contains affiliate links.
You guys know that I am all about saving Time and Money. What you might not know is that I am messy, very messy!! I am always looking for ways to cut out a huge mess and I did!! Have you ever heard of Jokari Hands-Free Bag Holders?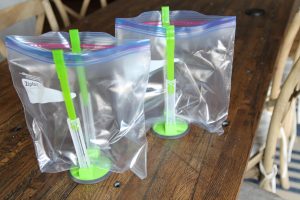 Well let me tell you about how awesome they are and how they cut down on my mess making ability!!
So like I said, I had to find a way to keep from making such a huge mess. Especially on my 5 Dinners Meal Prep day. There I was surfing through Amazon looking for some tools and tricks chefs use and I stumbled onto these Jokari Hands-Free Bag Holders.
They looked so simple and easy to use that I just HAD to have them.
Ordered a set of them through Amazon Prime [No-Shipping Fees] and tried them out. My take of these bag holders is – They. Are. The. BOMB!!
You too can grab them here!!
Why I use Jokari Hands-Free Bag Holders –

1- HANDS FREE bag holding!! Simple as that!! Now I can chop, dice, slice and then scoop with both hands!!
2- Jokari Hands-Free Bag Holder are adjustable!! They fit most bag sizes, from sandwich bags all the way to large gallon sized freezer bags.
3- Easily turns your bags into an assembly line. Saving you time and space on your counter. Cut up food, scoop and drop it in. Love it!!
How many times have you tried to open a Ziploc baggie with greasy fingers? No more of that craziness. With the Jokari Hands-Free Bag Holders rubber base, you do not have to chase those slippery bags across the counter. The bags stay put!!
Now the bags are fully opened for you!! Allowing you easy meal prep and assembly. Grab a set of these holders and see for yourself!!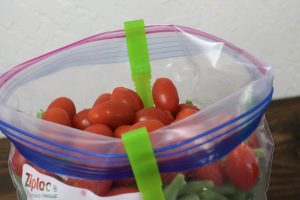 Just in case you haven't seen 5 Dinners in action, check out this video, of me using these bag holders.
Clean Up in a Snap!!
These Jokari Hands-Free Bag Holders are a must have in every kitchen and my words can not justify just how awesome they are!!
These bag holders are great at making an assembly line, making prep easy and keeping things in order. Best of all, I do not have raw meat falling off my cutting board and onto the counter or the floor. YUCK!!
Now it goes strait into the bag. No more messy counters to clean up. Saving me Time!! No wasted food = Saved Money :)
Check them out on Amazon and read the reviews!! See! You have to get a set for yourself!!
Hope you like them as much as I do!!
Michelle