I love a layered slow cooker dinner! The secret is extra thick pork chops. Have your butcher slice a pork loin into 3/4 inch slices.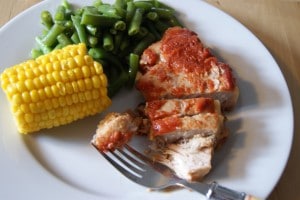 4-6 thick pork chops
1/3 C. brown sugar
½ C. bottled chili sauce (on the ketchup isle)
1/3 c. ketchup
1 t dried mustard
4-6 frozen corn cobs
Add pork chops, sauce and ½ C. water to slow cooker. Cover with a piece of foil. Layer foil wrapped corn on top.
Cook on low for 6-8 hours.
Add your favorite steamed vegetable and a dinner roll for a full meal in just minutes after a busy day.