I got a little lazy busy last week and it cost me. We ate out several times during the week and I ended up spending $90.00 eating out…..on only 3 meals!! That is enough to make you broke and bloated! ;)
I can make 5 dinners for 5 and a week of lunches for 2 for $90.00!! I will not be too "busy" again! That $90.00 was on 1 restaurant meal and 2 fast food meals (for 5 people).
Now my refrigerator looks like this…..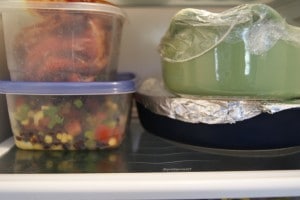 and my slow cooker looks like this…..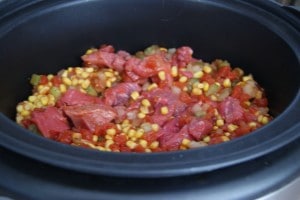 That is slow cooker BBQ Beef that will be served with Cowboy Cornbread. Recipe and pictures coming soon. :)
I have a challenge for all of you. Save your receipts for groceries and eating out for one full week. Add each one of them up at the end of the week. Then come back here and post in the comments how you did. The winner (picked at random) will get to choose any ebook from my store for FREE!!
This is just for fun. There are no right or wrongs here. I am just curious what the average person spends on eating out each week.
Contest starts today and ends next Sunday July 29th at midnight. One entry per person.
School will be starting very soon. Are you ready?
The brown bag ebook can help you organize school lunches so the kids can pack their own each morning. Read all about making lunches in bulk here.