Just a few simple ingredients make an amazing flavor for simple orange glazed turkey patties. Coming home to quick meals like this make that 1 hour investment at the beginning of the week so worth it! All you do is grab it them from the fridge, plop them on the grill, heat up some veggies and there you have it. Dinner is served.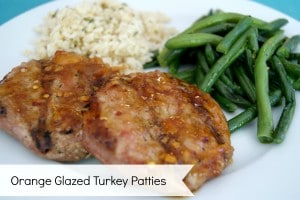 Ingredients-
1 cup of orange marmalade
2 tablespoons of soy sauce
1 teaspoon of ground ginger
½ teaspoon of crushed red pepper flakes [add more or less pepper flakes depending on your love of spicy]
4-6 preformed turkey patties
Assembly directions-
Mix the first 4 ingredients in a small container with lid. This will be the glaze while cooking and for dipping/flavoring when serving dinner.
Pour ½ of the mixture into another small microwave safe container with lid. This will be the drizzling/dipping sauce.
Cooking instructions-
Grill 4-6 preformed turkey burger patties on an outdoor grill until cooked through and no longer pink.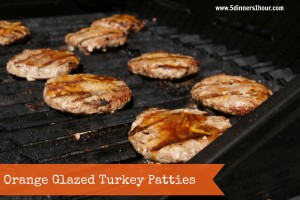 *If you are not able to use an outdoor grill where you live [apartment, condo, or it is raining, cold and snowing] or you just may not have an outdoor grill, no worries. Just use a George Foreman indoor grill or brown in skillet. We absolutely love our George Foreman Indoor Grill and gill all sorts of good food on it. Well worth the investment.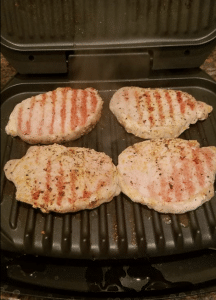 While grilling the patties, brush with the glaze you made as the turkey patties grill or brown. Take this down time while grilling to warm and cook your side dishes. Cook your green beans, broccoli or your favorite veggies that you have chosen in the microwave. Once those veggies are done, warm the other half of the sauce in the microwave until bubbly.
Dinner is Ready!!
When you are ready to serve dinner, you can pour the remaining sauce over the cooked patties and vegetables for that extra bit of seasoning and flavor. If you have some picky eaters or want to share in the fun of cooking, just leave the sauce in the bowl and let the family enjoy pouring it on too!! These are so good, you better make double. I usually eat 2! They are turkey so that makes it ok, right?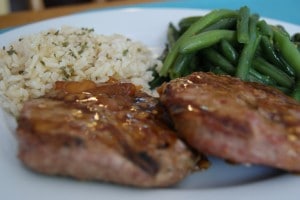 *There is an Amazon Affiliate link in this post.