Seriously, a three ingredient stuffed shrimp dinner, that is all there is to it? Yes! All you will need for this dinner is three simple ingredients. These Crab Stuffed Bacon Wrapped Shrimp will be a huge hit!! Plus it is really easy to make and so darn yummy! These Crab Stuffed Bacon Wrapped Shrimp will be a huge hit!!
You will be shocked at how simple it is to make stuffed shrimp that are flat out delicious.
Every time I make these, they are gone in minutes and there are never any leftovers! Check out this dish!!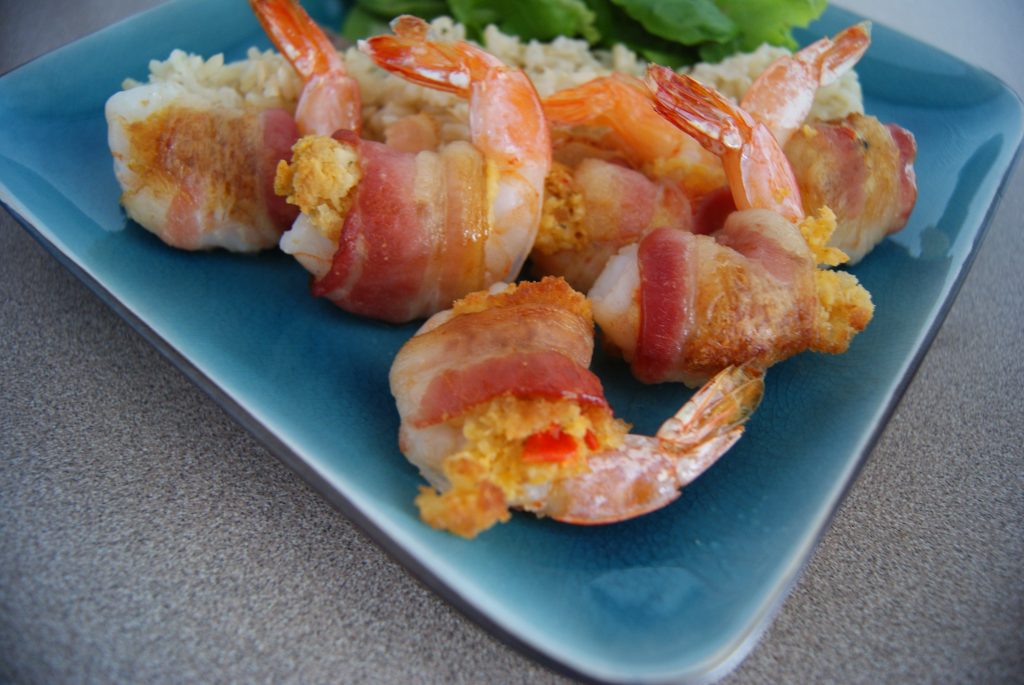 Crab Stuffed Bacon Wrapped Shrimp Dinner
All you need are 3 simple ingredients to make these crab stuffed shrimp wrapped in bacon. Just preheat your oven to 450 degrees.
Ingredients-
1 1⁄2 lbs peeled extra large peeled raw shrimp
2 pre-made crab cakes
1 lb bacon
Yep thats all you will need to make these awesome crab stuffed shrimp.
Assembly directions-
Pinch off about 2 teaspoons of crab cake for each shrimp.
Cut bacon into thirds.
Wrap each shrimp and crab with bacon. Store in large container with lid using wax paper between layers.
Cooking directions-
Place shrimp on large baking sheet in single layer. (use a wire rack if you have one).
Bake 450 degrees for 15-20 minutes until bacon is crisp and shrimp is cooked.
If you do not plan on cooking these stuffed shrimp right away, layer them in a closed container. Separate the layers with parchment paper or wax paper. These should be cooked within a couple of days of prepping to ensure freshness.