I love Mexican food but trying to cut gluten and carbs can be challenging when gluten free. This stuffed bell pepper dish is a great gluten free dinner that is quick, simple and delicious. These peppers will satisfy those tex-mex cravings and help keep you in line with a gluten free diet. These bean stuffed bell peppers could even be a served as an appetizer or side dish for a larger dinner party.

What do you need to make these peppers?
Ingredients-
2- 15 ounce cans black beans or refried beans (what I used here)
3⁄4 Cup of your favorite salsa
1-2 bags of steamers brown rice
4-6 bell peppers (any color)
2 Cups of shredded Monterrey Jack Cheese
Yep. That is all that is needed for this stuffed bell pepper dinner.
Is this a One Pan Dinner?
Yes it is. We forgot to mention is that this stuffed peppers dinner is a one pan dinner!! Yes we love one pan dinners. Less mess. Less clean up. Is what it is all about around here at 5 Dinners in 1 Hour.
For those who do not know, a one pan dinner is simply that. The whole dinner is in one pan and served in that same pan. That makes the dishwasher in this house hold very happy!!
Assembly directions-
Cook the rice in microwave according to package directions.
Mix beans and salsa in a medium bowl.
Slice the peppers in half. Scoop out the seeds and place the peppers in a 9×13 baking dish.
Then fill each pepper half with rice and beans. Top with cheese. Cover with foil.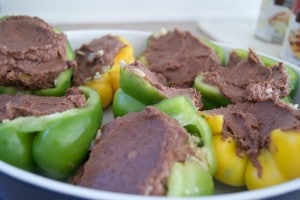 Cooking Instructions-
Bake the stuffed bell peppers, covered in a 350 degree oven for 30-35 minutes. Dinner is ready!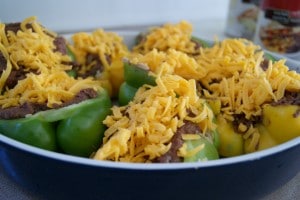 You can even add this stuffed bell peppers recipe to your Meatless Mondays Gluten Free diet. This bell pepper dinner is so good, you won't miss the meat!