5 Dinners 1 Hour prepper Jessica tried out Hello Fresh. Here was her experience!
Have you seen the many ads on Facebook for Hello Fresh or the other many dinner subscription kits? They are constantly filling up my newsfeed! They will send your groceries and recipes right to your door. While it does sound intriguing, is it really all it's cracked up to be? I was curious how 5 Dinners 1 Hour would stack up against Hello Fresh, so I decided to order a box and put it to the test!
5 Dinners 1 Hour prepper Josie and I went head to head to compare 5 Dinners 1 Hour to Hello Fresh in a dinner showdown. In the time that it took for me to cook a Hello Fresh meal from start to finish, Josie cooked a prepped dinner, prepped 5 more dinners, and cleaned her kitchen! You can watch our dinner showdown HERE (it was a lot of fun!).
So let's compare time, cost, quality of ingredients, and clean up between 5 Dinners 1 Hour and Hello Fresh.
Time
During our showdown, the meal I cooked took me a solid hour from start to finish. Something to keep in mind with these dinner subscription kits is that even though it all comes to you packaged together and organized, the work is still not done! You still have to cut up all of your veggies, meat, and cook! I spent quite a bit of time cutting up potatoes for potato wedges, cutting onions, and pattying out hamburger patties. All of these things I would have had done ahead of time during my 1-hour-a-week prep time with 5 Dinners 1 Hour, saving me valuable time in the kitchen during dinner.
Not only did I have to spend time cutting everything up, prepping everything, but this was a multi-step meal that took some considerable time in the kitchen. While the meal tasted good, there was a lot of time spent in the kitchen. I have gotten spoiled having such quick meals each night.

Quality of Ingredients
The freshness and quality of ingredients with the Hello Fresh box was surprisingly good! I was honestly not sure what to expect with the produce and meat especially. The produce was fresh and the meat seemed to be good quality.
One down-side of the Hello Fresh box compared 5 Dinners: if you have food allergies, you would not be able substitute ingredients. Also, you do not have choice of sides, so what you get is what you get. You do get to pick from several meals, but not near the meal selection I usually have. With 5 Dinners, I get 60 recipes to choose from at a time and 120 with the combo plan. I have picky eaters, so being able to switch out sides and pick from a lot of recipes is important to me.
Clean Up
One thing I love about prepping my dinners ahead of time is minimal clean up. I get my kitchen messy once a week, and dinner usually only involves a couple of dishes. After cooking the Hello Fresh meals, I realized how much of a mess I am saving myself every night by having dinners already prepped. The clean up with my Hello Fresh meal was not terrible (they did have me use the same pan for two of the parts of the meal), but still more than if I had already prepped it ahead of time.
One thing that I had not thought about was the amount of packaging there was! Because there is variation in the serving sizes Hello Fresh offers, there were 4 individual packages of cheese, 2 separate bottles of vinegar, etc. It makes sense because of the difference in serving sizes, but it is a lot of waste!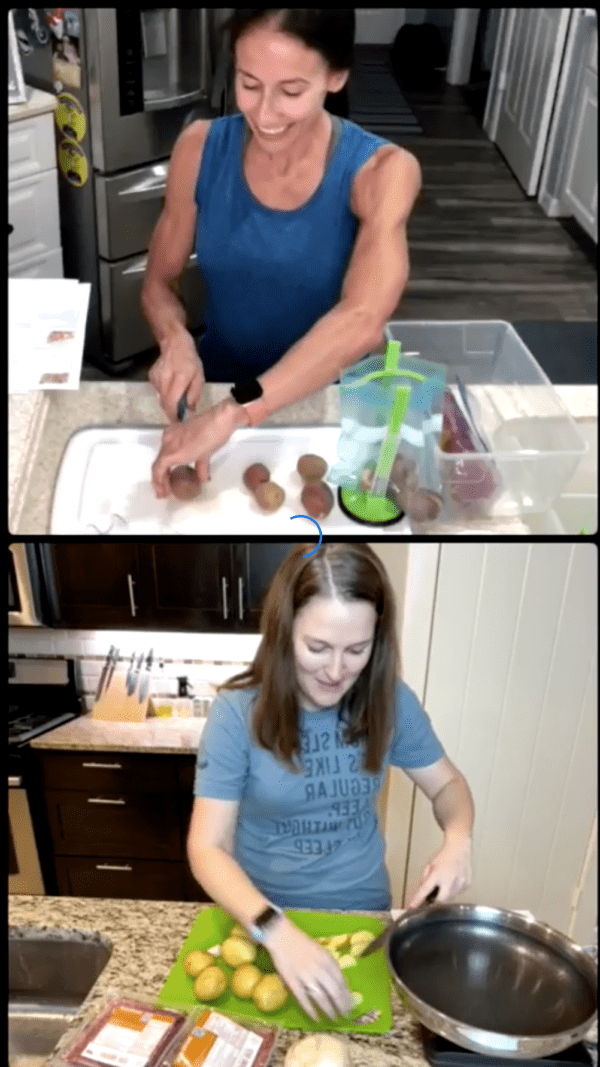 Cost
I saved the cost for last, because this is the most shocking comparison. The Hello Fresh meals, for a serving size of 4 like I got, comes out to be just over $8 per serving. Josie spent almost the same amount for all SIX of the dinners she made. Wow! While Hello Fresh has specials for your first few boxes, after that you are stuck paying the crazy high price. It is nice to have it all arrive at your door, but not worth that much extra in my opinion.
Overall, the meals I tried from Hello Fresh were very good, but not worth the price and time for me. I am so spoiled to the 5 Dinners meal plans and the time that it saves that I don't enjoy spending that much time in the kitchen anymore.
If you are looking to save time and money, go grab the 5 Dinners 1 Hour sample menu. Give it a try for yourself!