The best dinner ideas are ones that use the least amount of dishes. After cooking, who wants to wash a bunch of pans? These sheet pan dinner ideas are all amazing and unique!
12 Creative Sheet Pan Dinner Ideas
Sometimes, you just need a fresh idea for dinner that won't take very long to make. That's why sheet pan dinners are so amazing. All of the ingredients for your family's meal fit on one pan. Bake them all together and in less than an hour, you have dinner on the table.
Browse this list and put your favorites on your next menu. You are sure to find something the entire family loves!
1. Herb Roasted Chicken and Kale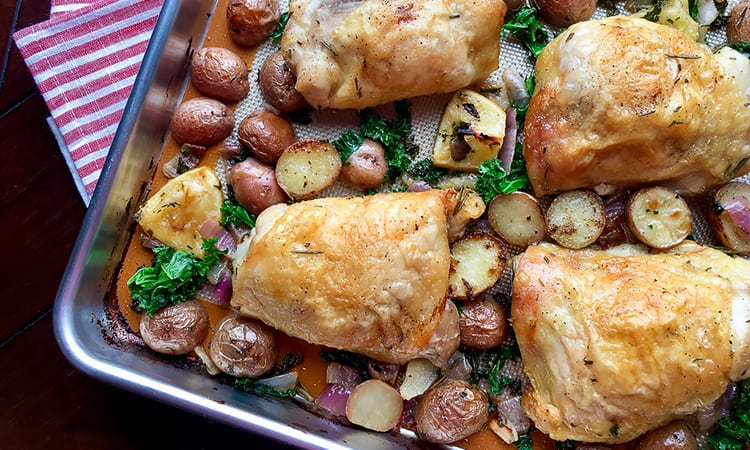 We all know the incredible health benefits of kale. But how do you make it so it tastes good? Put it on a sheet pan with these potatoes and herbs for a winning meal! The chicken comes out with a perfectly crispy exterior and juicy inside.
Find the recipe on MomSkoop.
2. Lemon Pepper Tilapia Dinner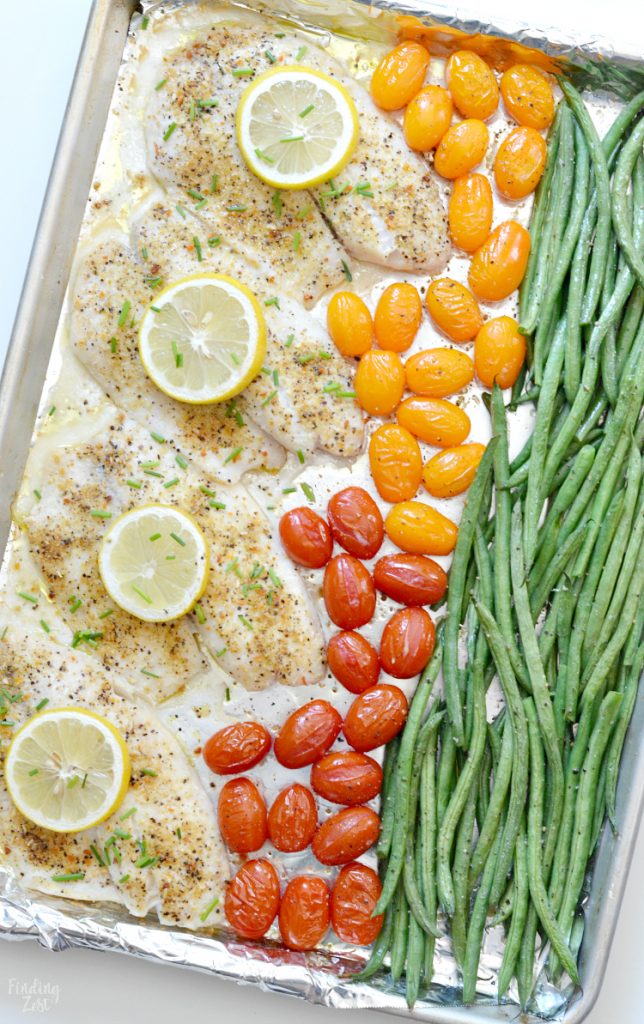 This is a perfect meal for your seafood night. Plus, it looks incredible with the bright red and green colors on the pan next to the light fish. It's a stunning meal that only uses one pan.
Find the recipe on Finding Zest.
3. Sausage and Green Beans Recipe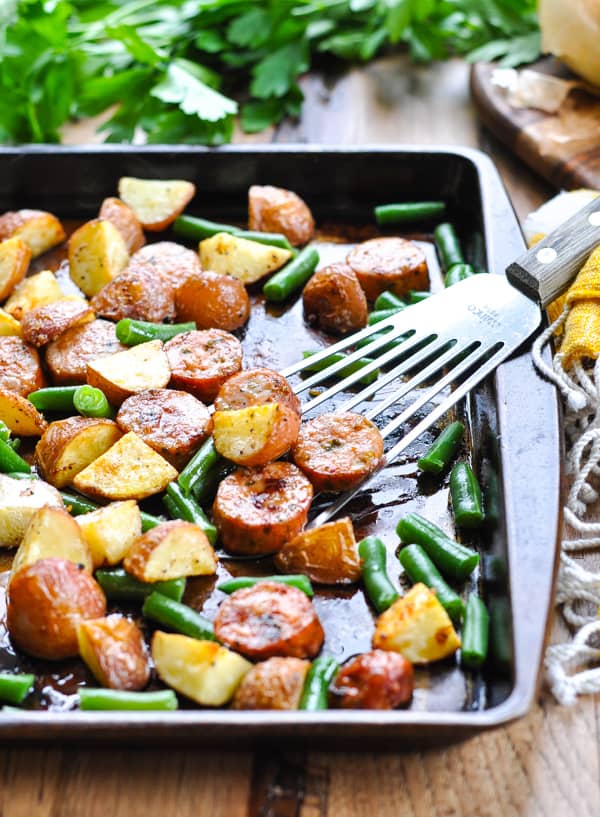 If you are looking for a different type of meat to serve for dinner, try some sausage. When you bake it with some potatoes they all come out crispy and oh so good.
Find the recipe on the Seasoned Mom.
4. Sheet Pan Shrimp Dinner
Another fantastic choice for seafood night is baked shrimp and veggies. This is one of our recipes, so you'll definitely have to give it a try.
Find the recipe on 5 Dinners 1 Hour.
5. Harissa Chicken and Potatoes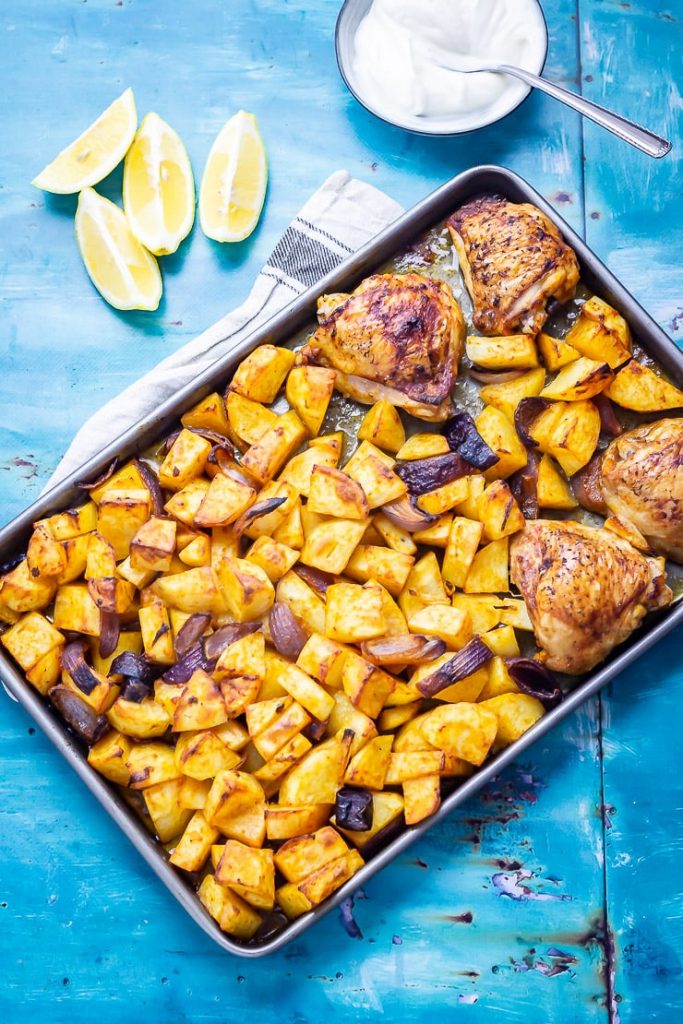 Have you ever cooked with the spice Harissa? This recipe hails from the United Kingdom. It's a fun way to try something new.
Find the recipe on the Cook Report.
6. BBQ Chicken Sheet Pan Dinner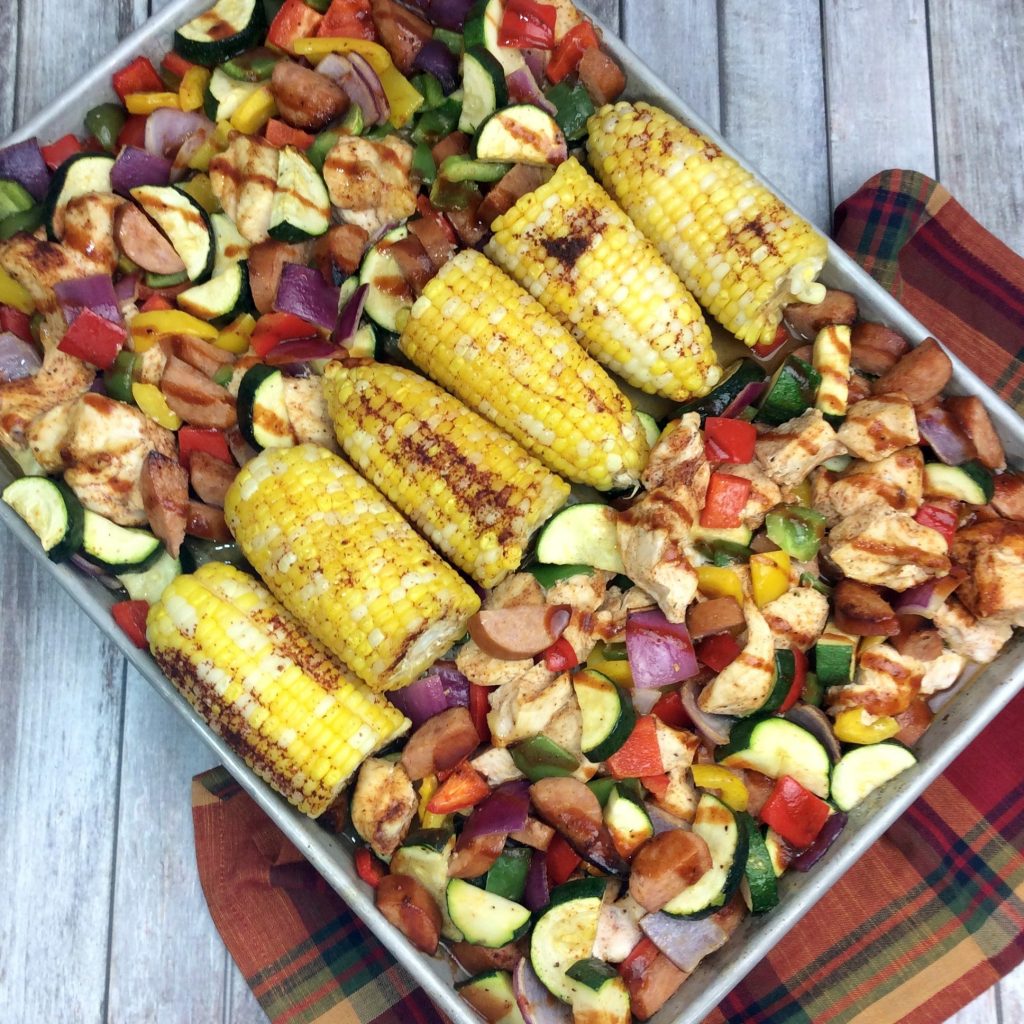 This sheet pan dinner idea has all the best fixings from a summer BBQ – but without the mess of the grill. Bake everything with your fave barbeque sauce and it comes out lip-smacking good.
Find the recipe on Venture1105.
7. Oven Baked Gnocchi Sausage and Vegetables Sheet Pan Dinner
Potato gnocchi is a really unique and different type of pasta. It pairs really well with the bold spice of the sausages in this easy meal.
Find the recipe on Living Lou.
8. Rosemary Herb Roasted Pork Chops Dinner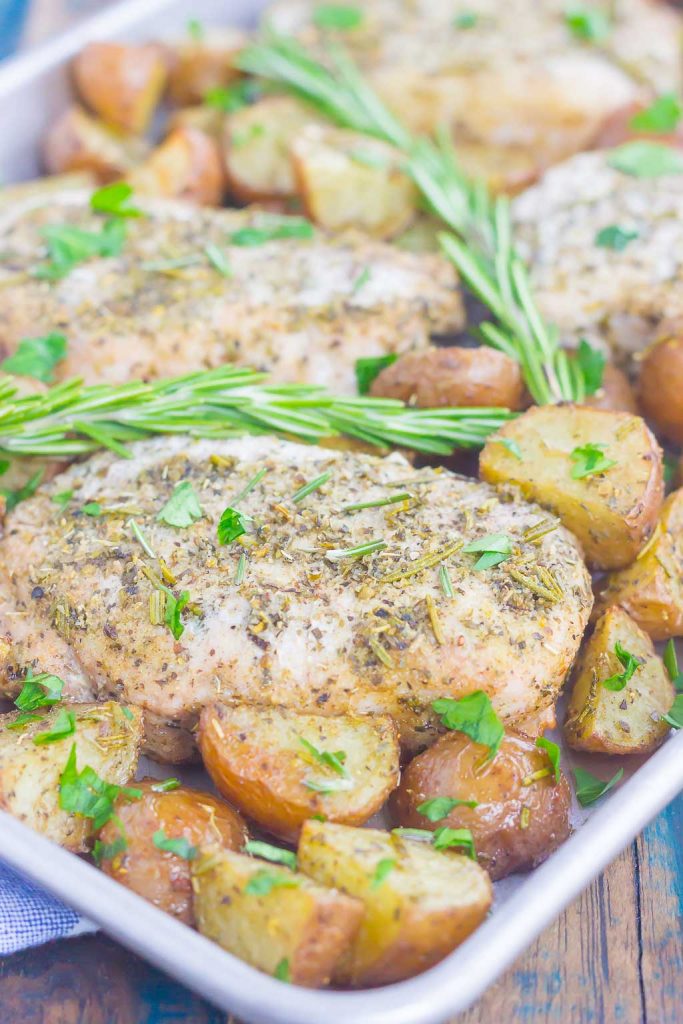 Another fantastic meat for a sheet pan dinner is pork. These pork chops are addicting. The rosemary makes them taste like grandma's cooking!
Find the recipe on Pumpkin N Spice.
9. Loaded Nachos for Dinner
The next sheet pan meal idea works great for Taco Tuesday! Try a tray of loaded nachos. It's comfort food meets snack meets dinner all in one.
Find the recipe on Crayons and Cravings.
10. Sheet Pan Shrimp Scampi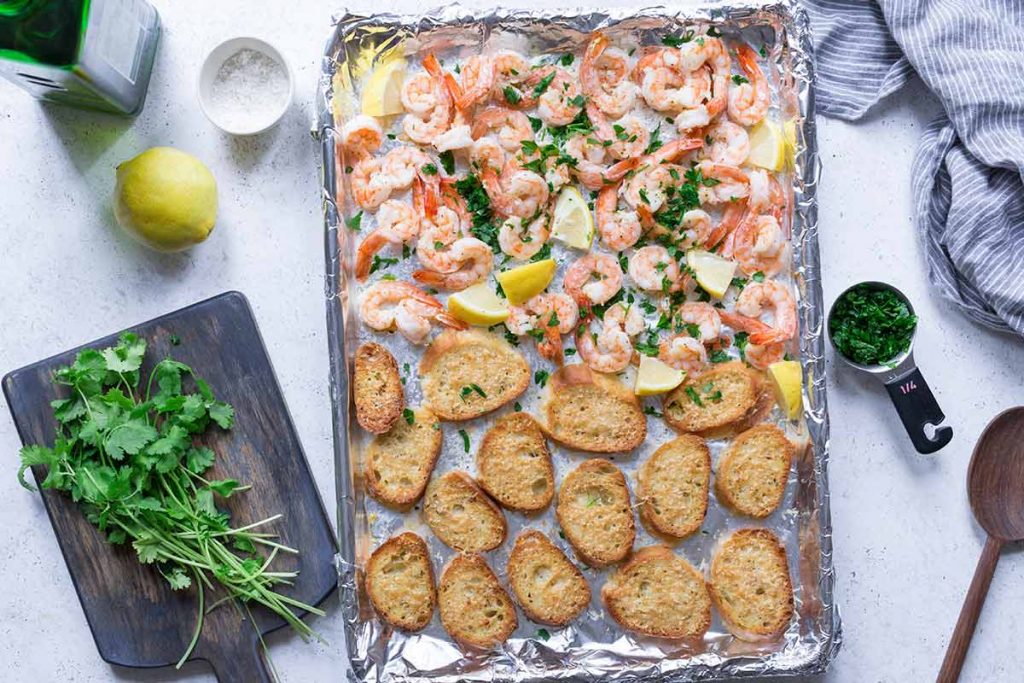 You might not think of shrimp scampi as a one-pan meal, but it works perfectly! If you want, you can boil some noodles right at the end. But this one tastes perfect with the garlic bread instead.
Find the recipe on Savory Simple.
11. Cilantro Lime Fajitas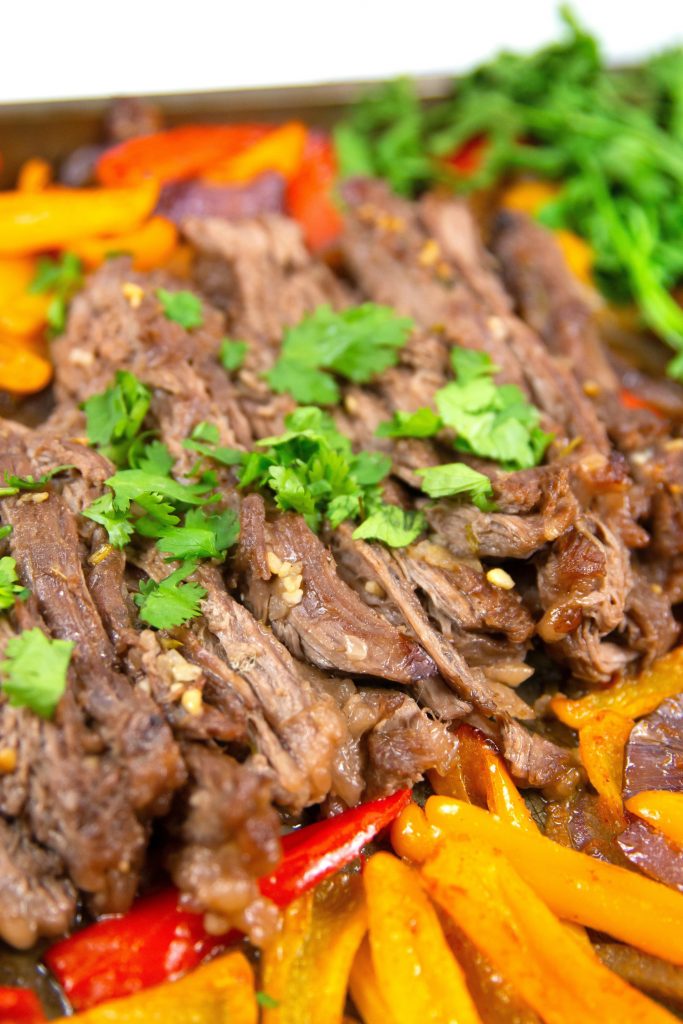 Steak and peppers together make the best fajitas. If you don't like cilantro, just omit it. These will still taste out of this world!
Find the recipe on Glitter and Graze.
12. Sun-Dried Tomato and Lemon Baked Salmon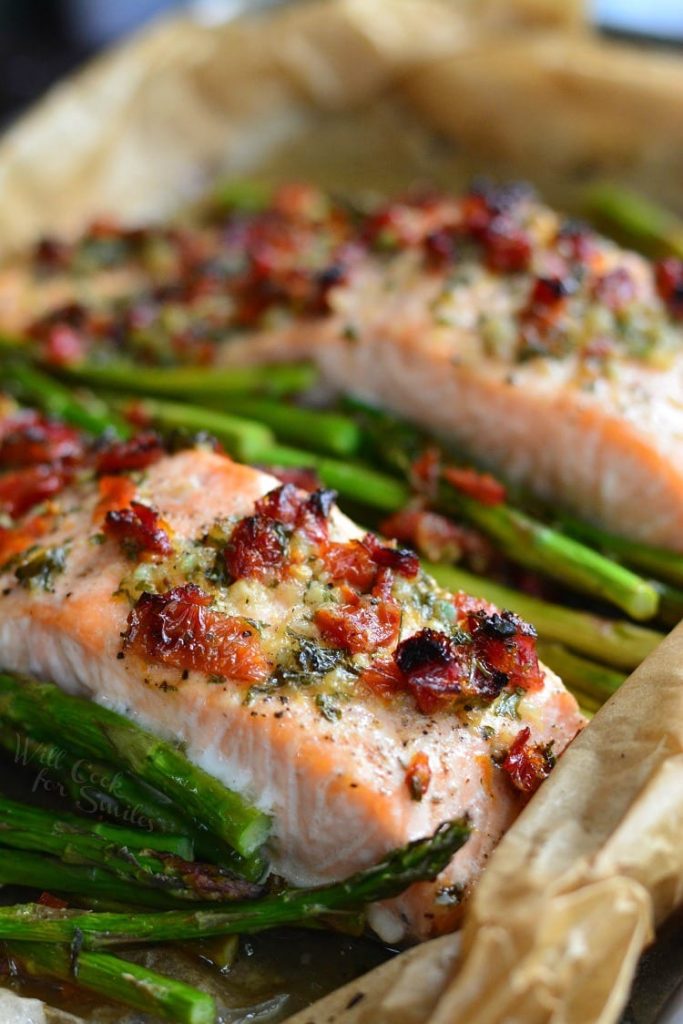 Salmon is a really hearty fish that fills you up. And asparagus is the perfect side dish. Top it all with some sun-dried tomatoes and hand-picked spice and you have an unforgettable supper.
Find the recipe on Will Cook For Smiles.
How to Make Sheet Pan Dinner Prep A Breeze
With just a few steps, you can make sheet panner dinner prep a snap! Just follow these three tips and you'll be on your way to easy dinner-making success.
Do all your prep on one day. If you have a really busy week ahead of you, cut up all your veggies and prep your meats on your one not-so-busy day ahead of time. Then, all you have to do is bake it and dinner is ready!
Freeze portions in individual bags. If you prefer to make your meals a month ahead of time, you can even freeze these meals in bags. Then thaw them a day in advance and bake them.
Use the same ingredients more than once. Try to plan for meals that use some of the same ingredients so you can just chop up the same thing all at once and be done with it.
However you choose to do it, sheet pan dinners will save you a lot of hassle in the kitchen.
PIN FOR LATER