Summertime calls for summer salad recipes with fresh, seasonal ingredients. Various lettuce greens and a rainbow of veggies and fruits make it easy to choose ingredients to make your summer salads healthy. By including a variety of nutritional ingredients, your summer salad can provide protein, fiber, essential vitamins, and antioxidants. Add some healthy fats, too, such as olive oil, avocado, or even salmon. From broccoli and asparagus, to kale and quinoa, from berries to peaches, and tomato and cheese, these summer salad recipes are quick and easy, require minimal or no cooking, and are the perfect and healthy way to enjoy all the produce that's in season now.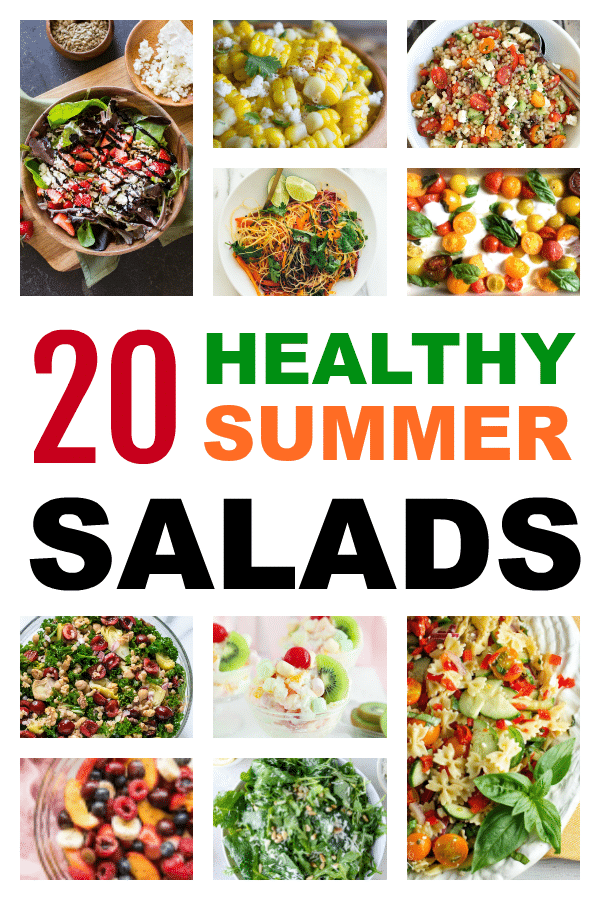 Check out this roundup of summer salad recipes! There are so many great ideas, it's hard to decide which one to try first!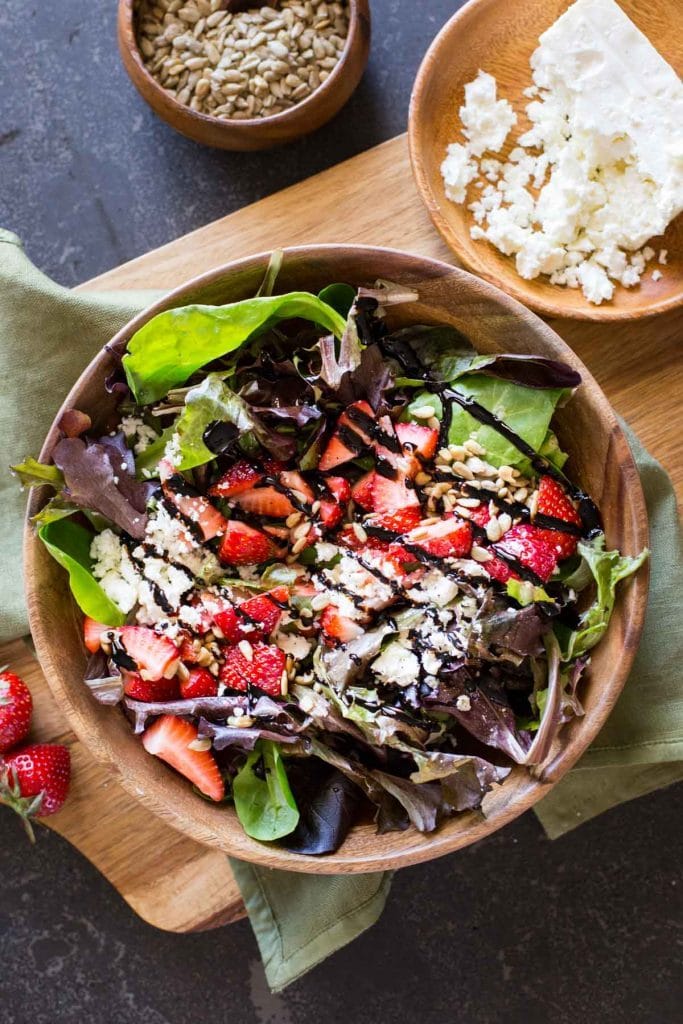 1. Easy Strawberry Balsamic Salad by Lovely Little Kitchen
If you are looking for a simple, yet flavorful summer salad recipe, look no further than this Easy Strawberry Balsamic Salad. This recipe can be assembled in just minutes, making it a great lunch recipe for those busy days of summer. You get a little sweetness, with the strawberries, and a little crunch from the sunflower seeds. The salad greens, feta, strawberries, and sunflower seeds are drizzled with avocado oil and a balsamic glaze (which is a balsamic vinegar reduction). Fresh, simple ingredients always make the best salads!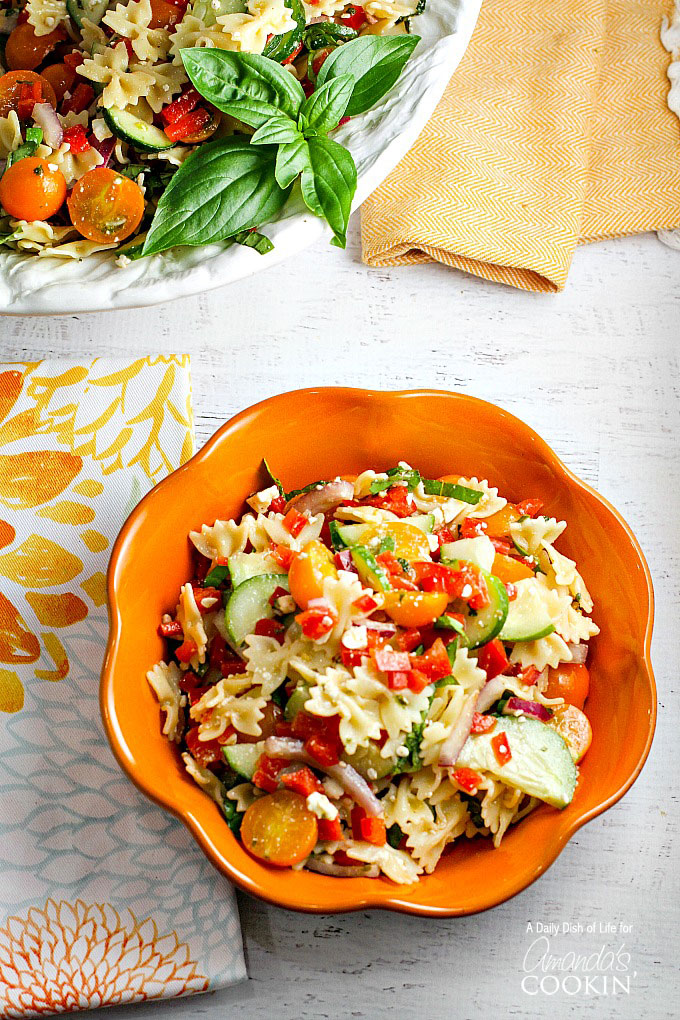 2. Summer Vegetable Pasta Salad by Amanda's Cookin
A light, homemade vinaigrette dressing makes for a perfect summer salad recipe! This Summer Vegetable Pasta Salad is a much healthier, lighter version of a pasta salad. With plenty of fresh summer veggies, mixed with a little mini farfalle (bow-tie) pasta, and a homemade vinaigrette dressing, this recipe would be perfect to take to a summer gathering.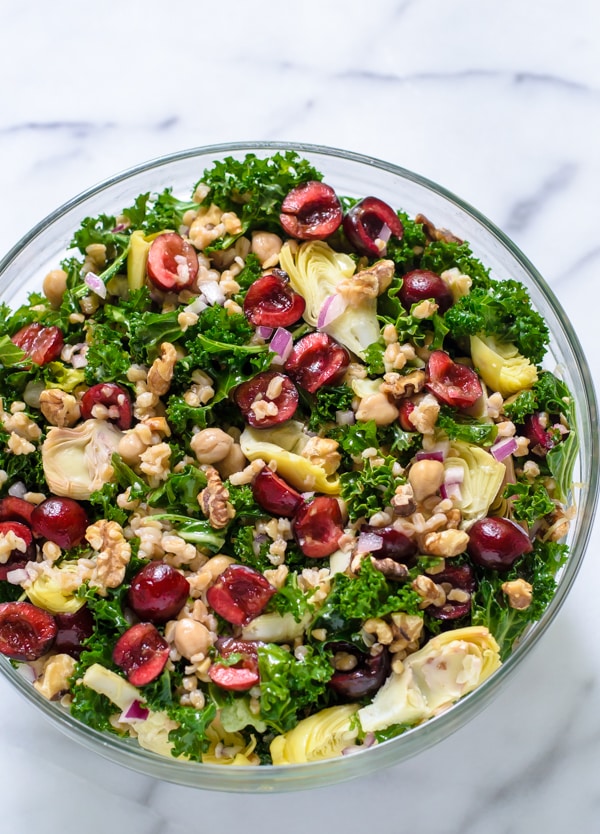 3. Super Detox Salad by Well Plated
Foods that are high in antioxidants are a great, natural way to detox your body, especially after all that heavy food you might have had at a summer BBQ get together. The Super Detox Salad combines ingredients, such as kale, walnuts, cherries, and quinoa, which are rich in antioxidants. Not only is it good for you, but it is a beautiful looking salad with the pops of color from the kale and cherries!

4. Summer Fruit Salad by House Of Nash Eats
Who doesn't love a fresh fruit salad? Even picky kids can get behind this summer salad recipe. Get them in the kitchen and let them help put this one together! This summer fruit salad combines fresh fruits, like strawberries, raspberries, peaches, and blueberries and is all put together with a super simple dressing made up of honey, lime, and poppy seeds.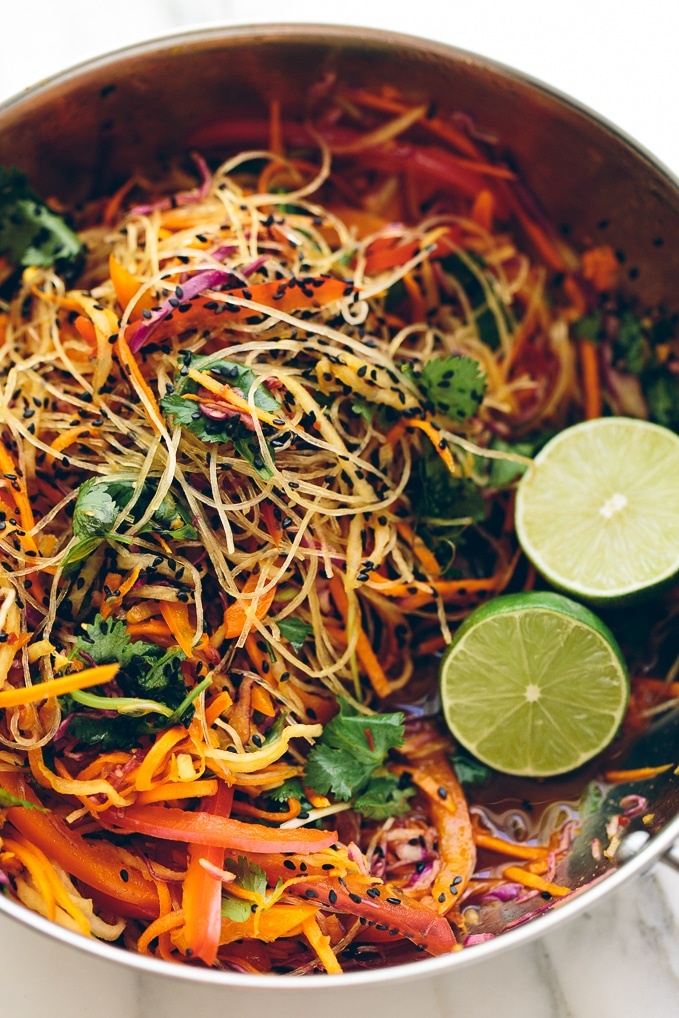 5. 
Rainbow Glass Noodle Salad by Blissful Basil
This is one of the most inventive, beautiful salads I have ever laid eyes on. Glass noodles go by different names, such as cellophane noodles, Chinese vermicelli, or bean threads. They are made from mung bean starch and turn transparent when cooked, hence then name glass noodles. These glass noodles, along with plenty of summer veggies and a chile-lime vinaigrette, make for a refreshing summer salad recipe with a little crunch!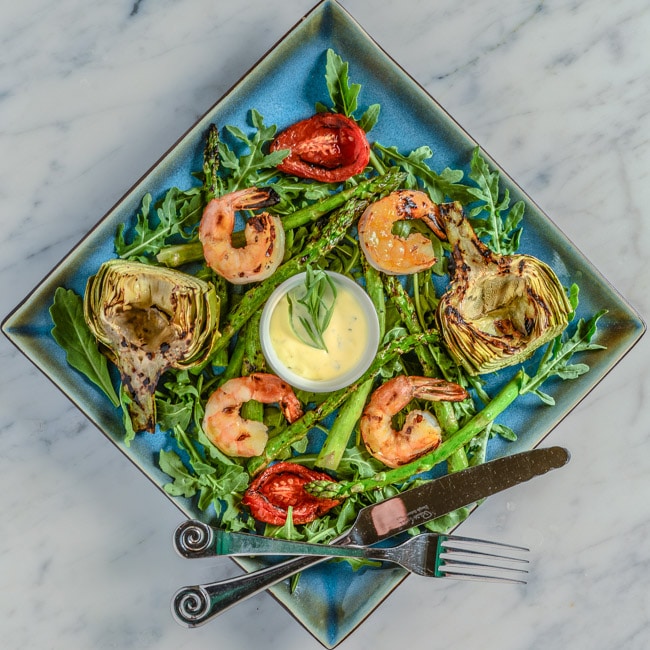 6. Grilled Asparagus and Artichoke Salad With Shrimp by Southern Boy Dishes
If you love using your grill during the summer, how about a grilled summer salad recipe? This salad combines the great flavors of grilling, with grilled shrimp, artichokes, asparagus, and mixes it into an arugula salad with a homemade aioli drizzled on top. The addition of the shrimp will give you that extra dose of protein that will help keep you going on a hot summer day!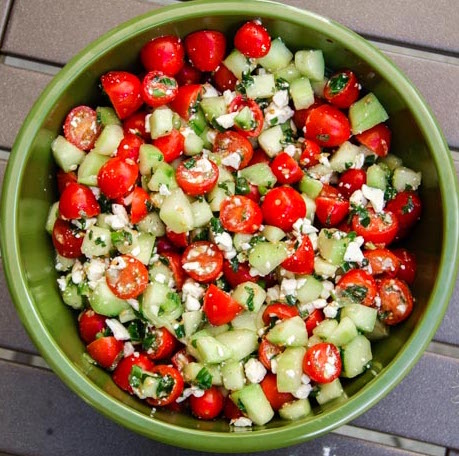 7. Cucumber Cherry Tomato Mint Salad by Vegetarian Gastronomy
Do you like to grow herbs, but are not quite sure what to do with that fresh mint? Mint can give a bright, fresh flavor to a summer salad recipe! The Cucumber Cherry Tomato Mint Salad just uses simple ingredients, but adding in fresh mint, oregano, and lemon juice really give those ingredients a pop of flavor!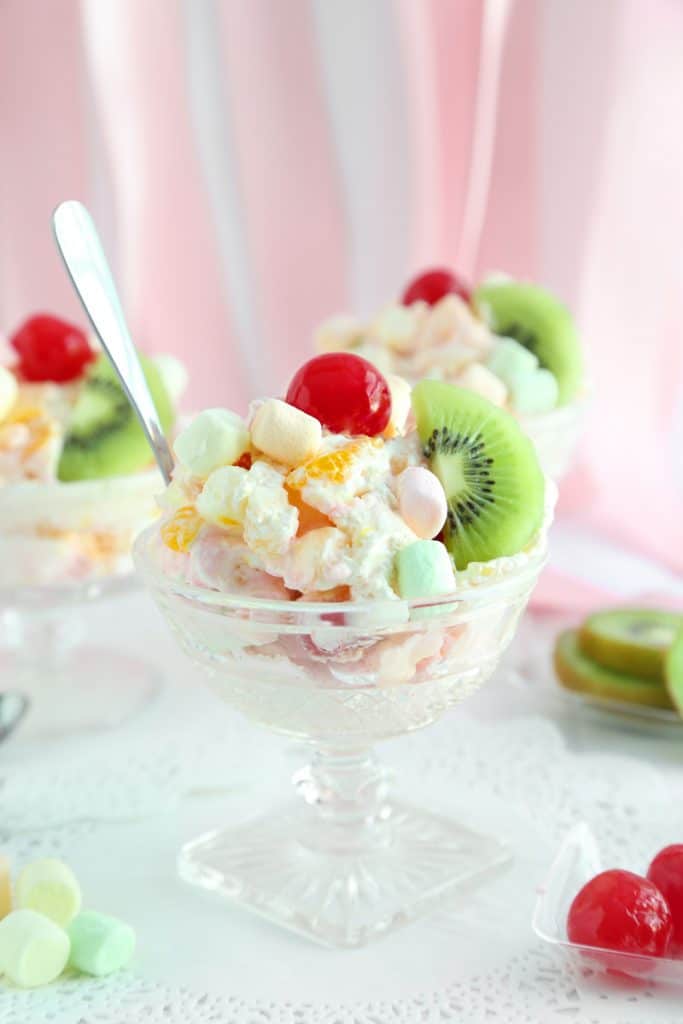 8. Tropical Ambrosia Salad by Sprinkle Bakes
For a little more indulgent summer salad recipe, try this Tropical Ambrosia Salad. With the tropical flavors of cherries, pineapple, mandarin oranges, fresh papaya, mango, and kiwi, it will make you wish you were sitting on the beach soaking up some sun! These fresh fruits are put together with a homemade whipped cream and tossed with some colorful marshmallows.

9. Pesto Pasta Salad by Five Heart Home
Do you love pesto? Then this is the summer salad recipe for you! This is not your typical pasta salad. The pasta is paired with crispy bacon (you had me at bacon. . .), crisp, green asparagus, peas, fresh balls of mozzarella (can you ever go wrong with cheese?), and tossed with some pesto, red wine vinegar, and olive oil. If there happens to be some basil growing in your garden, give some homemade pesto a try. If you are not feeling that industrious, buy some bottled pesto and it will still make a great salad! Pesto lovers, be sure to check out the 5 Dinners 1 Hour Baked Pesto Chicken Tenders and Tomatoes recipe.

10. Caprese Peach Salad by Lemon Tree Dwelling
Nothing screams summertime like fresh peaches! I love me some good peach cobbler during the summer, but if you want to be a little healthier, try out this Caprese Peach Salad. This great summer salad recipe is a twist on the traditional caprese, with peaches as the star instead of tomatoes. The balsamic vinaigrette is so easy to put together, there's no need to use store-bought dressing!
For something Asian inspired, check out this 5 Dinners in 1 Hour Asian BBQ salad recipe! Also check out these other 10 summer salad recipes!