I don't know how I have never blogged this recipe. I make it often and it seems to be a customer favorite. I am not a fan of meatloaf and I LOVE this recipe! It is really good. I think you could even form this mixture into burger patties and grill. Oh my. I must do that soon!
Ingredients-
3 T honey mustard or 1 1/2 T of honey + 1 1/2 T mustard
3 T ketchup
1 ½ lb lean ground beef
2 eggs
½ C. Panko crumbs
½ C. shredded Mexican cheese
Salt & pepper to taste
½ C. shredded Mexican cheese
Assembly directions-
Mix first two ingredients in small bowl.
Mix next 5 ingredients in a large bowl.
Or if you are short on time, just dump in all in and mix well. It tastes great either way.
Spray muffin tin with non stick spray.
Scoop meat into 12 ct. muffin tin with ice cream scoop for equal portions.
Top each with sauce mixture and remaining cheddar cheese.
Cover with plastic wrap.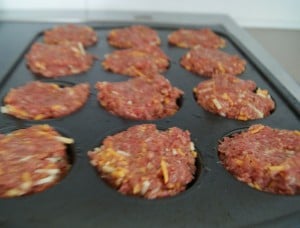 Pardon the blur. Sometimes I work fast and forget to check the quality of the shot before I move on. Please don't hate me for my blurry picture of raw meat.
Cooking instructions-
Uncover meatloaves and bake in 450 degree oven for 20 minutes or until no longer pink inside.
These go great with mashed potatoes (I love the Ore-Ida Steam 'n Mash).
These freeze great too. Use a disposable muffin tin and cover with foil. Thaw and cook as directed. Then dig in!