Do you love a Chili dog or "coney"? Here is a healthier version that tastes just as good without all the guilt!
8-12 hot dogs (look for 100% beef & nitrite free)
8-12 hot dog buns (whole wheat)
½ C. mayonnaise (low fat)
½ C. relish (sweet or dill)
1-2 cans turkey chili
1 C. frozen chopped onion (opt)
1 C. shredded cheddar cheese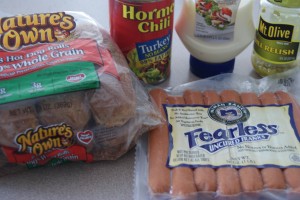 Line a 9×13 baking dish with foil. (you might need an additional pan to fit them all) The 9×13 pan will fit 8.
Spread a thin layer of mayonnaise on one side of each bun. Top with dog and place in baking dish.
Top each with relish, chili, onion and cheese. Cover with foil.
Bake covered in a 350 degree oven for 40 minutes.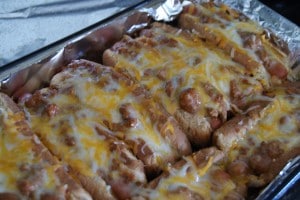 These are not at all soggy. They are perfect! Just like the ones you get at Sonic drive in. These would be great to take to an outside summer concert or picnic.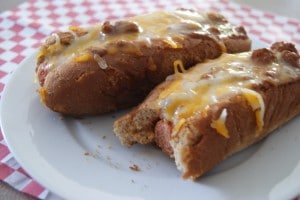 This recipe will appear on the July menu. Hey, it is summer after all and we do like to have fun food every now and then. By making these at home, you get to control the ingredients so it is not so bad to let loose and enjoy a good hot dog this summer. ;)