I saw this recipe on Pinterest and people were raving about it. We tried them and they are so good, I will be making about 6 trays(9×13 foil pans) of them to freeze. This will be our Saturday lunch for the next few weeks!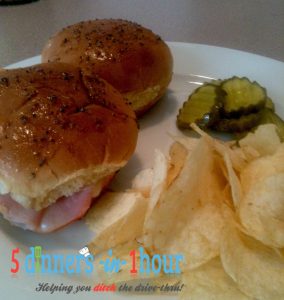 16 dinner rolls, cut in half (I used slider buns)
¼ C. mayonnaise (optional)
1 T poppy seeds (optional)
Line a 9×13 baking dish with bottom halves of dinner rolls. (They should fill the dish and fit snug)
Top each with ham and cheese.
Spread mayonnaise, if using, on each top half then top each sandwich. Cover with plastic wrap.
Add next 6 ingredients to a small microwave safe bowl with lid.
To bake:
Warm sauce in microwave until butter is melted. Mix well and pour over sandwiches.
Bake covered with foil in 400 degree oven for 10 minutes. Uncover and bake additional 5-10 minutes or until tops are golden brown
Enjoy!