There really are a variety of ways to combine ground beef and pasta – and all of them are crowd-pleasing! Plus, you only need one skillet to make these meals. Try one of these cheesy ground beef pasta skillet recipes next.
10 Cheesy Ground Beef Pasta Skillet Recipes
We all know about how easy those boxed dinners are. Just add the noodles, sauce packet, and ground beef to a skillet and dinner is served!
But what if a homemade dinner was just as simple?
It can be! All of these 10 cheesy ground beef pasta skillet dinner ideas are a cinch. You can have dinner ready in less than an hour. Try one of them. Try all of them! Find a new favorite dinner idea from this list.
1. Creamy Broccoli and Pasta Skillet Meal
Our original recipe uses Italian sausage instead of ground beef. But you can easily replace it with ground beef and add some extra garlic and oregano. When you add the broccoli it makes it a complete meal in one dish.
Recipe on 5 Dinners 1 Hour.
2. Homemade Beefaroni
This recipe has tomato soup in it for some extra tang! It's incredible and has so much flavor. And I think the best thing about this recipe is that there are only four ingredients.
Recipe on Platter Talk.
3. One Pan Taco Mac & Cheese
Change up Taco Tuesday. Instead, serve a skillet pasta meal with all the fixings. You can use any noodle you want, but the macaroni noodles are the perfect size for a filling plate.
Recipe on Beyer Beware.
4. Dairy-Free Chili Macaroni Recipe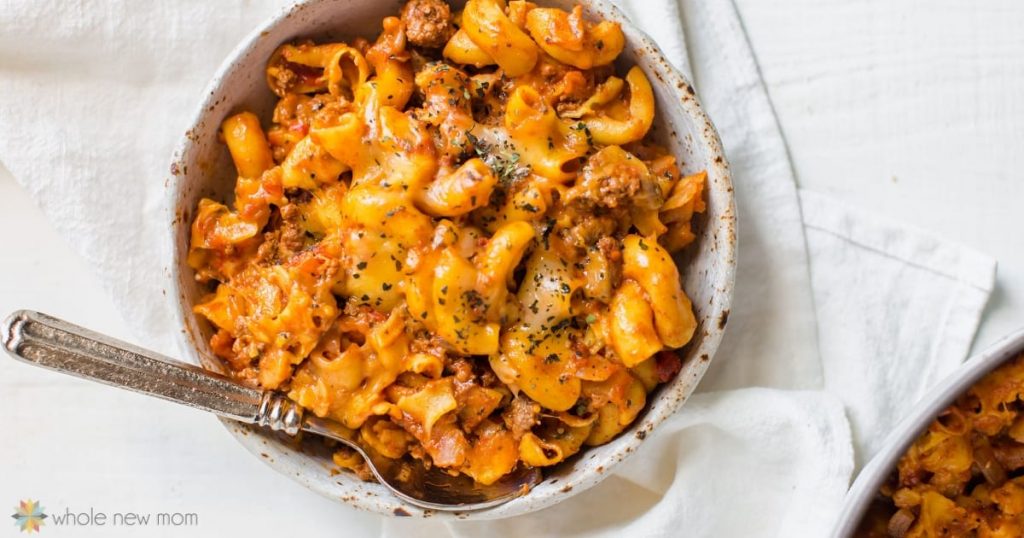 The next idea is perfect for anyone with dietary restrictions. This is genuinely dairy-free and gluten-free. It's made with tomatoes and beef broth and gluten-free noodles.
Recipe on Whole New Mom.
5. One Pot Taco Spaghetti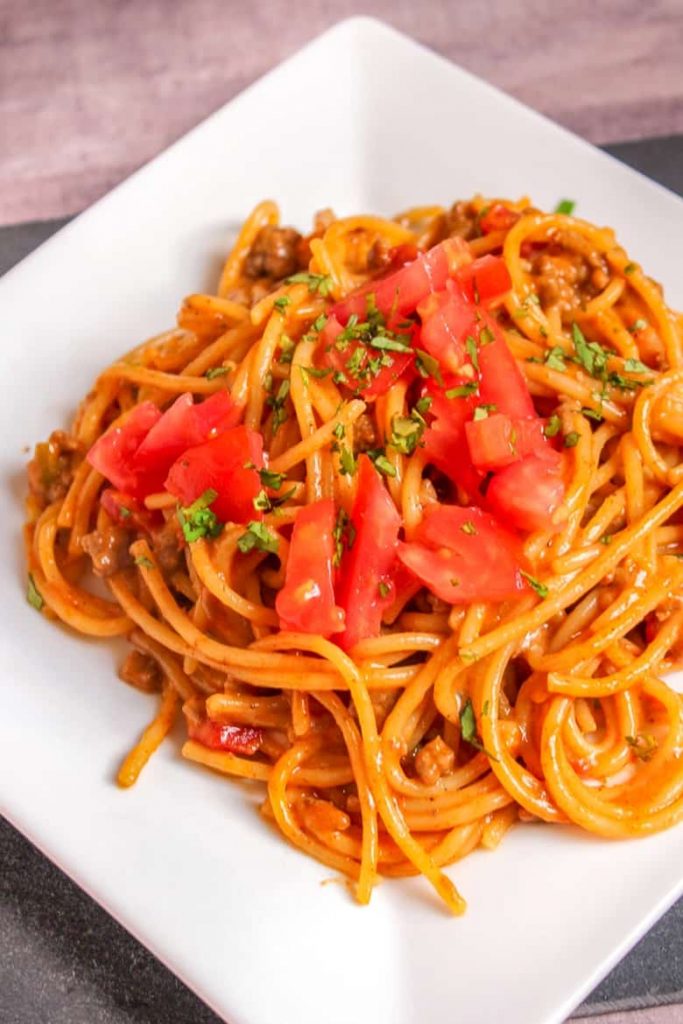 Another Tex-Mex creation uses spaghetti noodles and taco stuff – taco seasoning, diced tomatoes, tomato paste – and mixes them all together. Add some cheese for something unforgettable.
Recipe on Crayons and Cravings.
6. Enchilada Skillet Pasta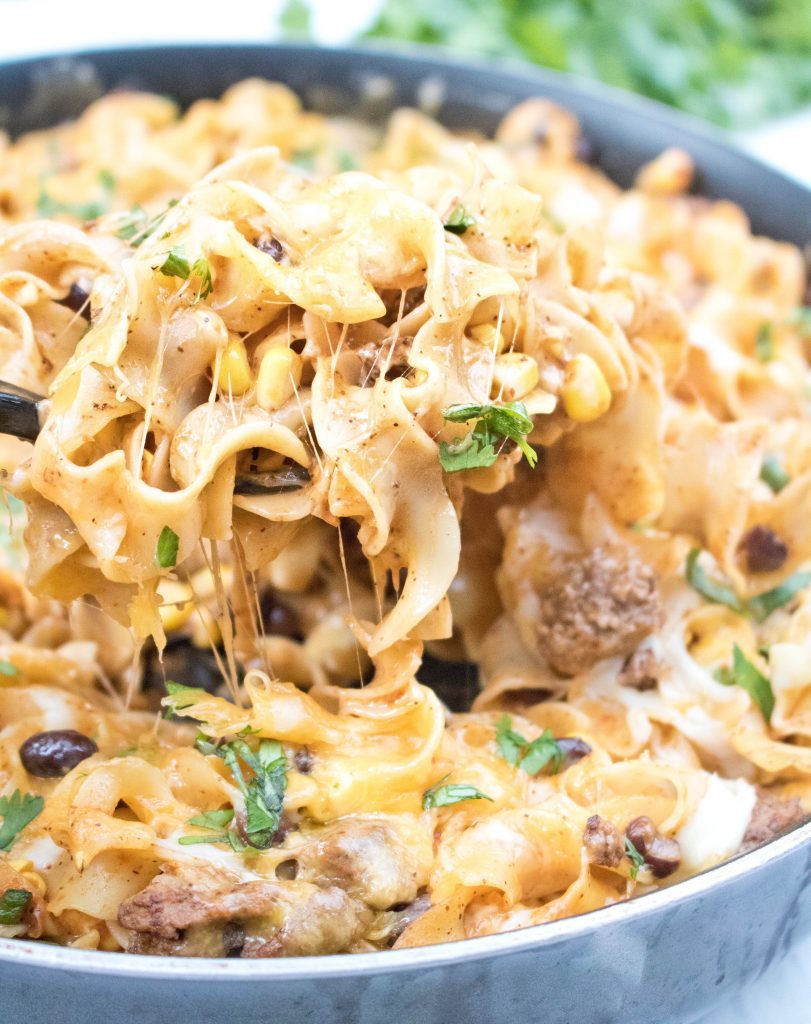 The next recipe uses enchilada sauce instead of taco seasoning. This enchilada pasta skillet also adds cilantro and black beans. You can omit the cilantro if you want.
Recipe on Served From Scratch.
7. Southwestern Pasta Recipe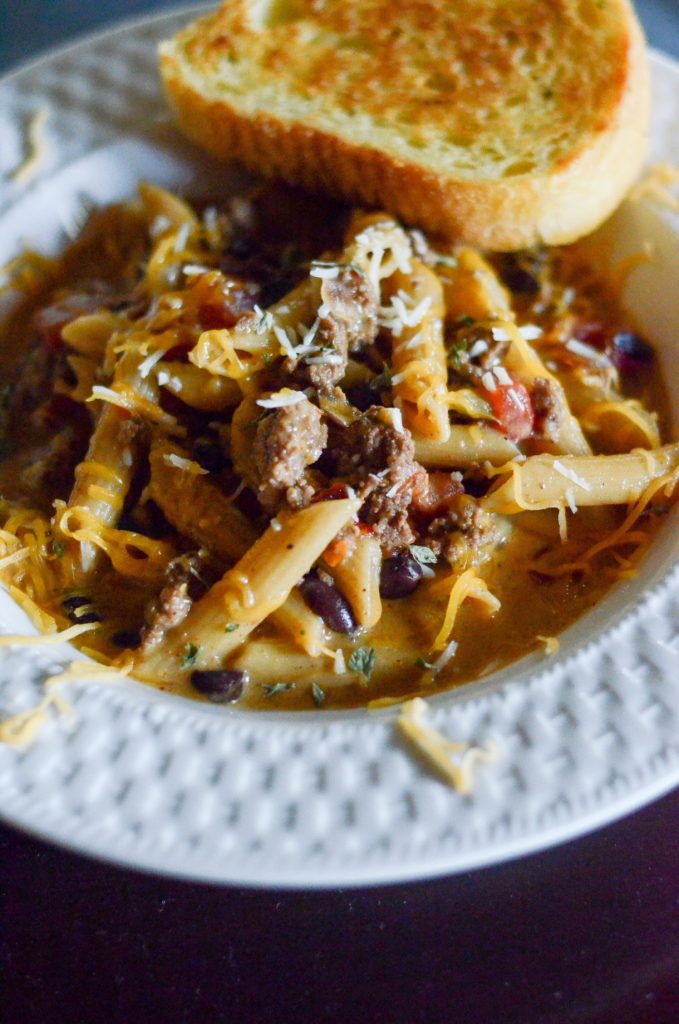 This recipe from the Gifted Gabber comes out sort of like a soup. You just combine salsa with the rest of the ingredients and you have a dish with a bit of spice and kick!
Recipe on the Gifted Gabber.
8. Cheesy Taco Penne Ziti Recipe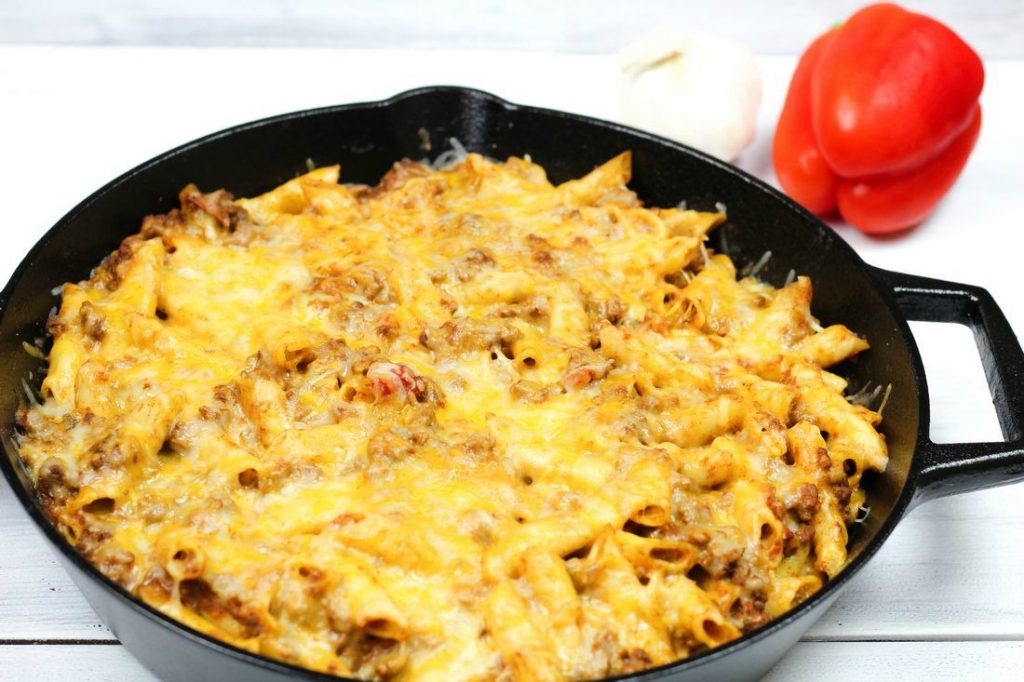 This Ole Mom created a cheesy skillet recipe that will save you tons of time. It has just a few very easy ingredients and comes out tasting like the food of your childhood.
Recipe on This Ole Mom.
9. Gluten-Free Cheeseburger Macaroni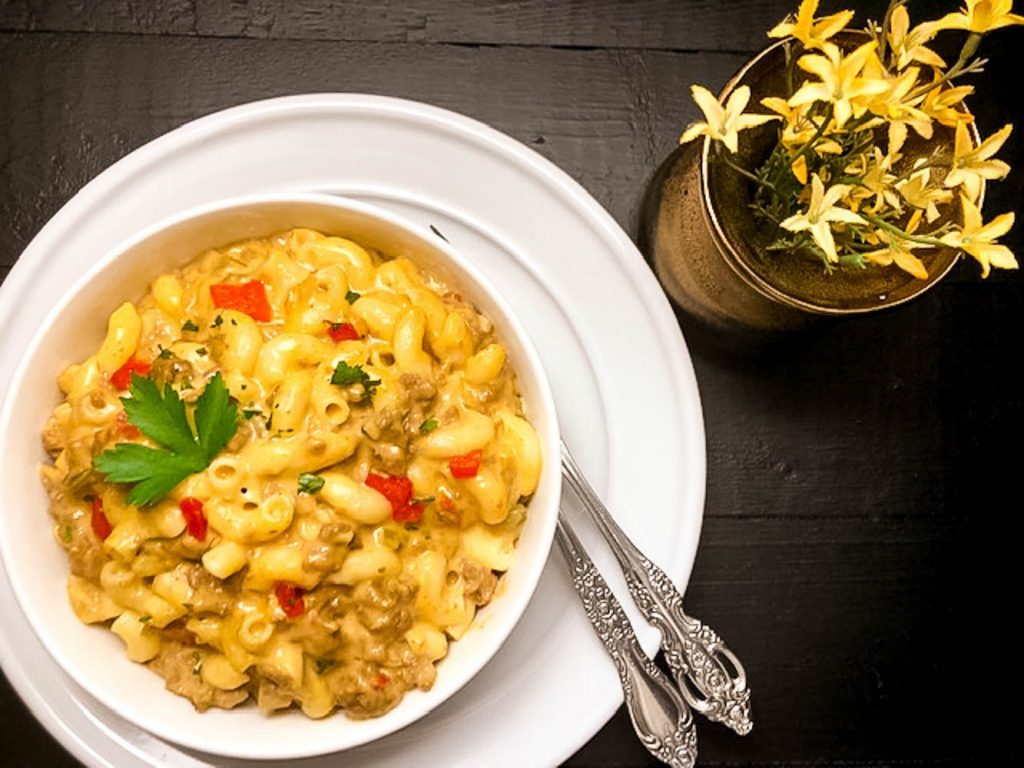 This recipe has the most ingredients of all of them on this list. But it is worth it. The gluten-free sauce thickens the dish so it isn't soupy. And the homemade Cajun seasoning is so amazing you'll use it in other recipes too.
Recipe on A Sprinkling of Cayenne.
10. Honey Balsamic Goulash Recipe
Finally, the best cheesy skillet recipe is a goulash one. This recipe adds hot pepper sauce with honey and balsamic vinegar. The result will wake up your taste buds and have your kids asking for seconds!
Recipe on Venture1105.
Dinner In Minutes
There you have it! 10 of the best dinner ideas! Try a few of them this week. You'll love these cheesy ground beef pasta skillet recipes. They are always family-favorites.
PIN FOR LATER