Seasoning your food is one of the most important aspects of cooking. Whether you are a new cook or have been cooking for years, properly seasoning your food may still be a challenge. Have you ever spent a lot of time and effort making a meal? Gotten so excited getting dinner on the table and then had a huge letdown after tasting it? I will never forgot one day when I was newly married deciding I would take on a beef bourguignon recipe. I spent about 3 hours (yikes!) making it and was so excited to present my husband with this gourmet meal, but after we took the first bite I was sorely disappointed that all that hard work had went down the drain because it was so bland! Not knowing any better yet, I blamed the recipe, but I have now learned that it's all in the seasoning! Properly seasoning your food is the key from taking your boring meal to a restaurant-quality meal.
Now, thank goodness with 5 Dinners 1 Hour, you will never spend 3 hours making a meal, but knowing how to properly season your food will make the most out of your meals. So, if you need to kick your dinners up a notch, follow these 4 tips on seasoning your food like a pro!!
4 Tips for Seasoning
1. Always add salt and pepper
If you only do one thing, add salt and pepper to your meal; it makes all the difference in the world in terms of flavor. Even with other seasonings added in, if you skip the salt and pepper step, it will not be as flavorful as it could be. Salt helps to bring out the flavor of the other seasonings you have in your dish. If you are making a dish that already has a high sodium content, such as something with a lot of bacon or soy sauce, you will need to go a little easier on the salt.
When it comes to pepper, freshly ground pepper pacts more of a punch. If you don't have your own pepper grinder, many brands now sell peppercorns in a spice bottle that doubles as a grinder.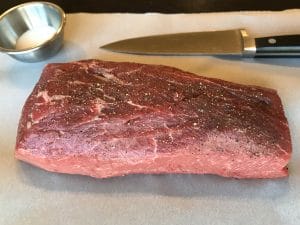 "Seasoned to taste" can often take a little trial and error, especially if you are a new cook, but a good rule of thumb is you should be able to see the seasoning on the food; if you can't, add a little more.
When adding salt or pepper to meat that is going to get breaded, add salt and pepper before adding the breading (and you can also add some to the breading itself). Even if you are dipping your meat in egg before the breading, don't skip the salt/pepper step beforehand; it will still add flavor to the meat.
2. Give the bag a good shake!
One of the things I love about prepping with 5 Dinners 1 Hour is putting the ingredients in a bag. Which means less clean up for me! When putting those yummy flavors into the bag, remember to give it a good shake or a good massage to make sure everything is incorporated; you want all the flavor to be evenly distributed. Get your kids involved with this part; they will love it!
3. All brands are not created equal
If you do not already have a well-stocked spice cabinet, the initial spice buying can be a little expensive, but don't skimp too much on the quality. Spices from the dollar store will not give you the same flavor as more quality brands. Although they might save you money initially, it might take a lot more of the cheaper spices to really get flavor; those higher quality spices will have a more potent aroma and will therefore pack more of a punch in your food. Keep an eye on your grocery store ads for sales. There are also several places online that sell quality spices and they frequently have discounts.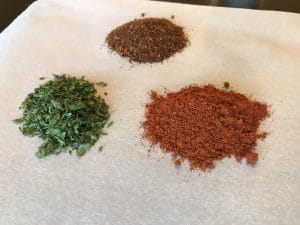 Another tip on spices: check your expiration dates. Did you know spices can go bad? Although they are not likely to make you sick, they do lose their potency the older they get. If you cannot find an expiration date on the bottle and are not sure how old it is, give it a good sniff; if you do not notice much of an aroma, it's probably best to go ahead and replace it.
Once you have a stocked spice cabinet, you probably won't have to worry much about spices going to waste if you are using the 5 dinners 1 hour system, because the recipes frequently use common spices. So give your spice cabinet a good clean out and check for spices that need to be tossed and replaced.
4. Don't be afraid to re-season your food
Have you ever heard the saying that a good cook tastes their food? Well, it's hard to really know what something tastes like until you actually taste it for yourself. This is obviously not practical in the prepping process, but after you have cooked your meal, give it a taste before plating it. Maybe you forgot to add enough salt, or some other spice. You won't know until you give it a try! Nothing is worse than really looking forward to eating something, only to have it turn out bland. So, test it out and add more seasoning if needed. If you are unsure how to remedy it, add a little more salt and pepper.
When I am grilling meat or about to put a dish in the oven, I often add a little more seasoning to it. Sometimes when prepping in a bag, it's hard to really tell if there is really enough spice. Once you get the meal out of the bag and into a pan, if you cannot see the seasoning, go ahead add a little more flavor to it.
Follow those 4 tips and you are sure to add more flavor to your dinners! And if you are still struggling to get dinner on the table every night, check out the meal plans 5 Dinners 1 Hour has to offer here.