How about a 5 ingredient steak dinner than takes less than 10 minutes to cook? If that didn't get your attention, maybe this will…..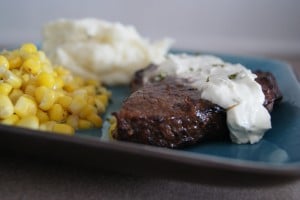 Ohh yeah, now that is a great make ahead meal for a busy weeknight! Now doesn't that look better than a burger in a paper wrapper?
Ingredients-
1 ½ lbs sirloin steak
1/3 C. balsamic vinegar
Salt & pepper to taste
8 oz herb & garlic cream cheese
Assemble-
Add first 3 ingredients to large zipper bag. Zip and squish around to mix
Add cream cheese to a small microwave safe container with lid.
Cook-
Place steak on baking sheet at broil for 4-5 minutes per side or until desired doneness.
Warm cream cheese in microwave until creamy. Serve over steak.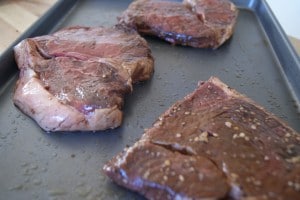 Add steamers mashed potatoes and heat some frozen corn and you have a steak dinner in about 15 minutes!